Amelia and Penske events and CVR Member's Concours award
The 2020 Amelia Island Concours d'Elegance was special in a number of ways. The Concours celebrated its 25th year and as most people know, it is now considered one of the most significant car events in the US, probably only topped by auto week activities in Carmel/Monterey each August which culminates with the Pebble Beach Concours d'Elegance.
While the Amelia event included usual auctions by Gooding, RM Sotheby's and Bonhams, the PCA Werks and lots of manufacturer displays and drives, the highlight most certainly was all of the activities focused on the 25th Annual Honoree Roger Penske. You'll read about the auctions in many other publications.
Again this year, CVR was represented on the Concours field. CVR Member, and active participant in CVR Concours events, Steven Harris displayed his recently completed 1963 356 Carrera 2 Cabriolet. Not only is this car one of only 96 4-cam cabriolets but is finished in the rare Daimler-Benz Grey-Beige paint to sample color. Steven won an Amelia Award for 3rd Place in a very competitive class. The restoration was completed by Jim Newton's Automobile Associates of Canton with engine support by Jeff Adams at SST Auto.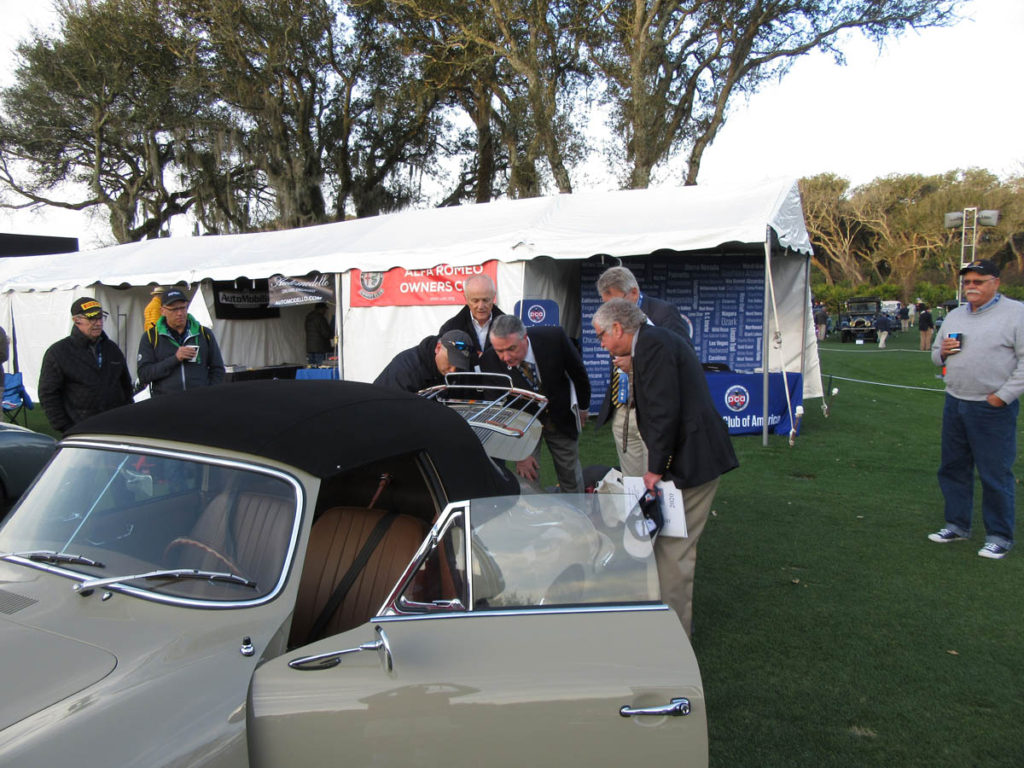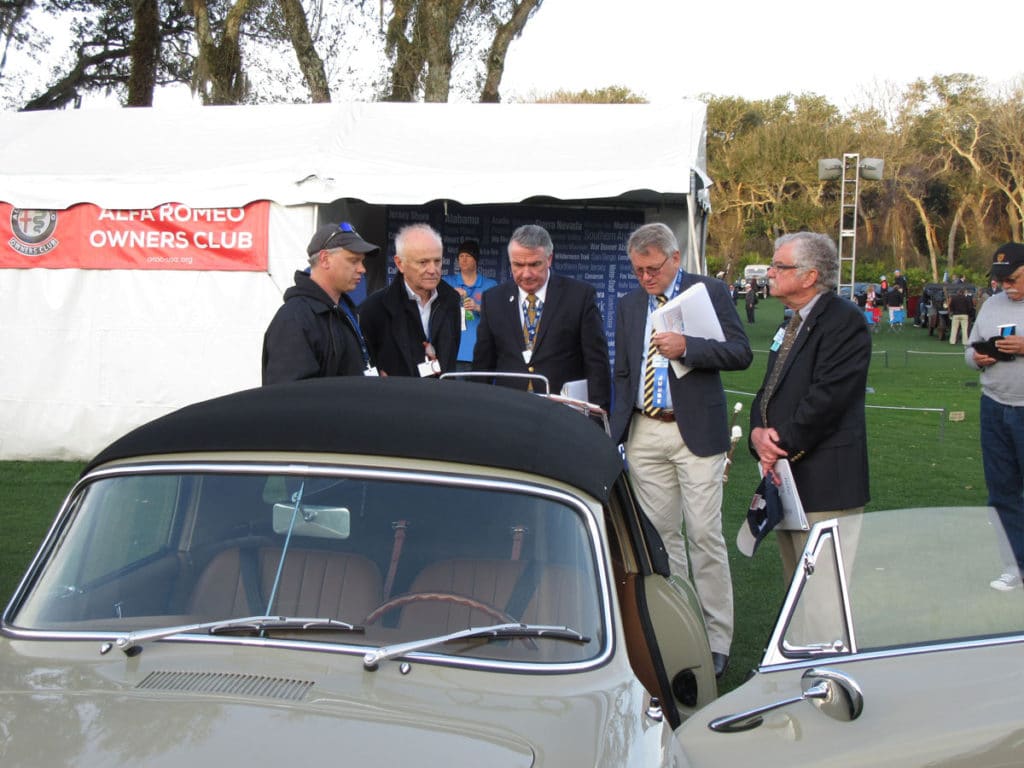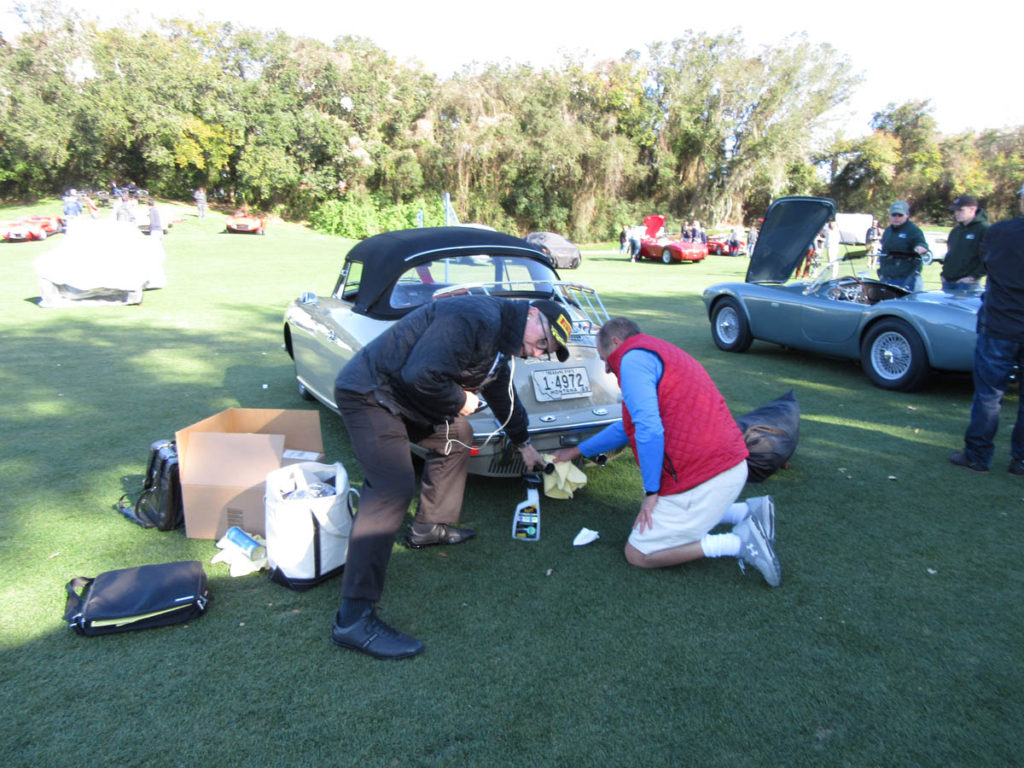 I was fortunate to attend the 3 main Penske Events.
This first was a one on one interview of Roger by Pedro Mota VP PCNA Marketing after the annual Porsche Wine Dinner. The ballroom had several Penske related cars including a 550 and the RS61 he raced and drove onto the concours field as well as the famous Mark Donohue 917/30 which won the Best of Show Concours de Sport at the Sunday Concours. The interview touched on Roger's many successes in both racing and business with a focus on Porsche. An interesting fact is that the Penske dealership company now has 19 Porsche dealers worldwide. Later Patrick Long joined the conversation to talk about his relationship with Roger and Porsche.
The second event was a panel discussion that included Roger. The narrator was Ray Evernham, former NASCAR racer, crew chief, team owner with Jeff Gordon and TV announcer, who worked for the Penske IROC series as a chassis builder. The panel included Rusty Wallace, a Penske driver, John Mecom, racing team owner whose father gave Roger his first racing ride, Rick Mears, 4-time Indy winner for Penske and George Follmer, an early Penske driver.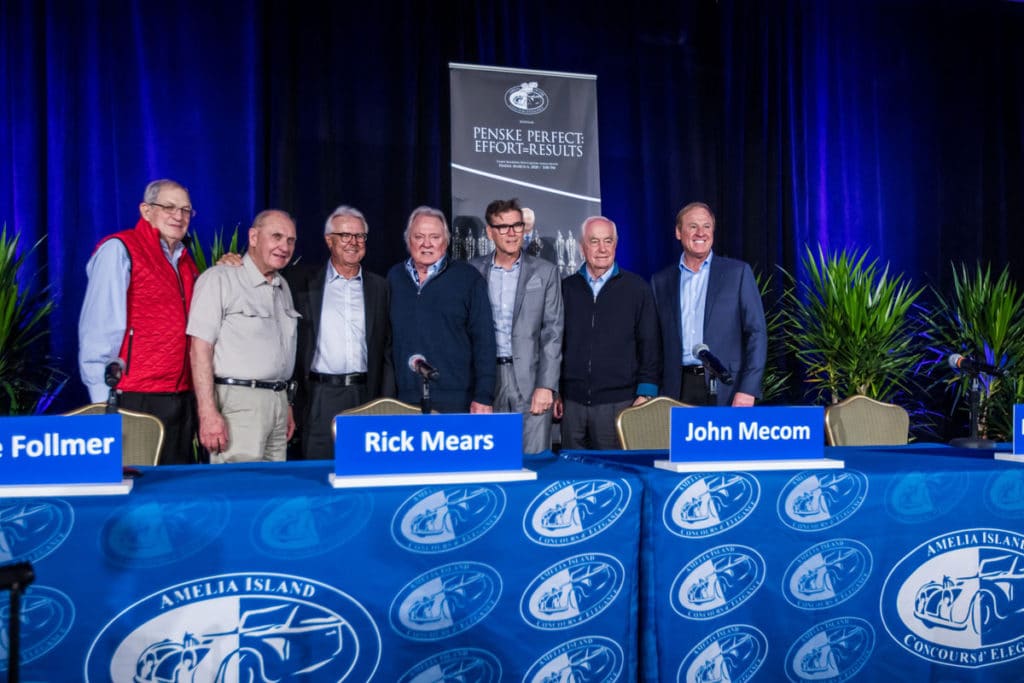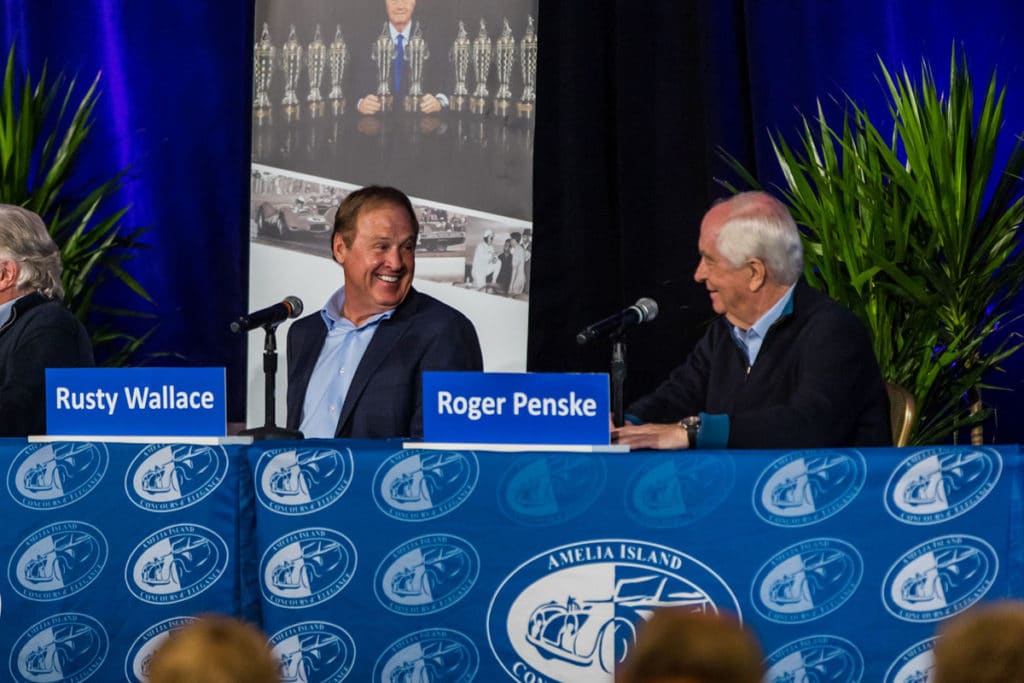 This panel discussed their relationships, good and bad, with Roger and told many stories about Roger's successes as a team leader.
The final event was again a panel discussion lead by Ray Evernham. This panel included long time ( long being some over 50 years!) Penske team members: Karl Kainhofer, an early engine builder; Chuck Cantwell, a Mustang GT350 engineer at Shelby who went to Penske as Trans-AM team manager; race shop manager Don Cox, Penske Racing's first and only engineer from 1969-'76; Woody Woodard, 60's race crew chief on Donohue 917 team and other Penske efforts; Judy Stropus (who lives in CT), one of the first women in the pits in the 60's and who developed a scoring methodology that became commonplace in racing; Walt Czarneki, number 2 executive of all Penske businesses; Jay Signore, one of the first Penske team members in Penske's cigarette boat racing days (he couldn't remember why he raced them) and who, with wife, Barbara, ran the IROC series for Penske from 1973 until it ended in 2007. Jim Hall, famed racer, car builder and team owner, participated by phone.
Needless to say, this group, all with 50+ years with Penske, had lots of very funny stories about how Roger operated the business and allowed and encouraged all employees to innovate for the team or business.
The overriding Penske culture included goals (good enough is not good enough!), respect for human capital (inclusive of all 66,000+ employees worldwide), preparation and execution, confidentiality and involvement with sponsors.
Regarding human capital, Roger has made a point of attending family-oriented events at his businesses and talking to family members. Roger related one such event:
At the event, he asked a wife if there was anything he could do to help their family. The wife started laughing and Roger asked why. The wife's answer: before her husband got his Penske job he sulked around the house and drove her crazy. With the job, he is happier than ever, leaves very early in the morning, is gone most of the time and she was very happy.
She told Roger "don't screw this up"!
The audience had a good laugh but understood the underlying point.
Even with all the funny stories and technical innovations by all panel members, the message was very clear: working for Roger Penske is the best!
The Concours featured The Cars of Penske in a fantastic display including 6 cars raced by Roger (including the very first 1961 RS61 Spyder first raced by Roger to victory in the 1960 Bahamas Speed Week. Roger drove this car onto the display field – see pictures below), 5 Penske Indy cars and 21 other Penske Team cars including a 1973 IROC Porsche Carrera RSR, the Donohue 917/30 Can-Am Spyder (Awarded Best of Show Concours de Sport) and the #7 & #8 winning RS Spyders. In addition, the famed Indy 500 trophy was on display recognizing Penske's 18 Indy 500 wins.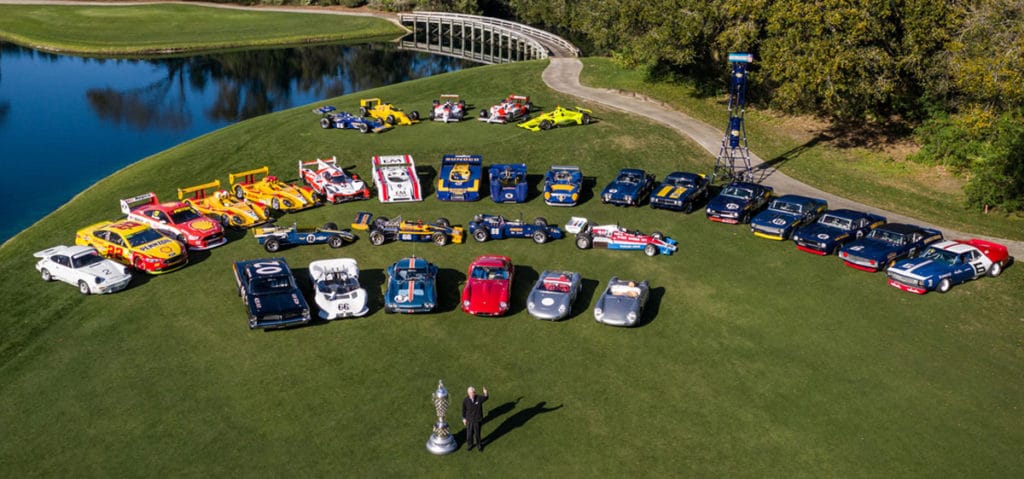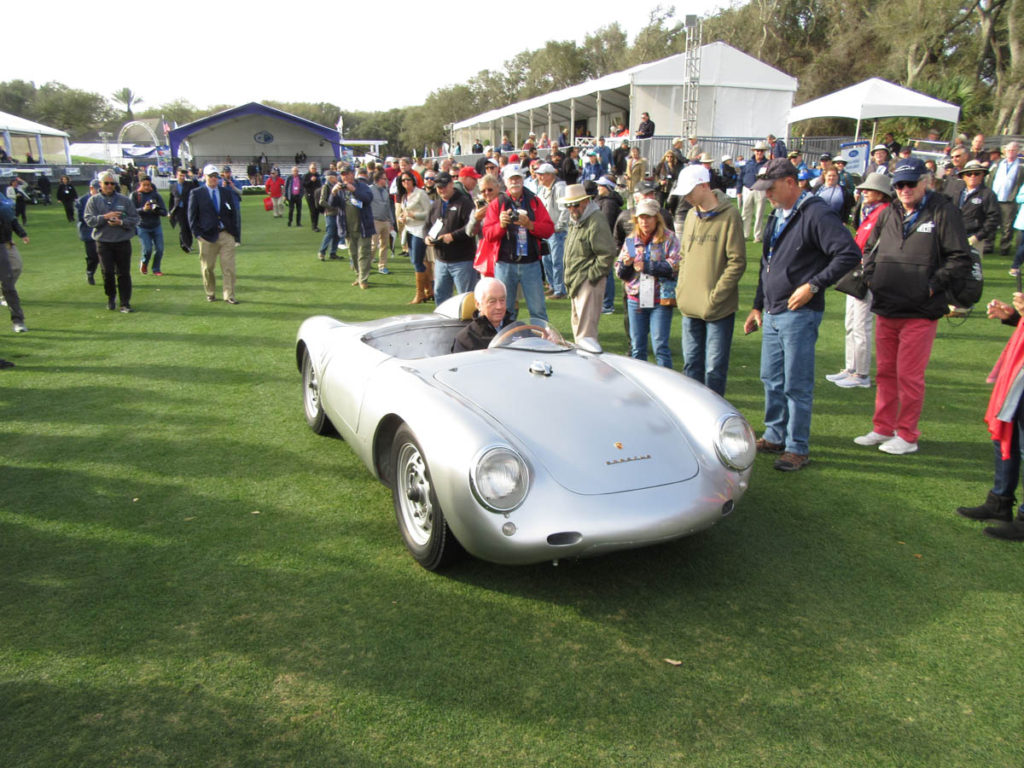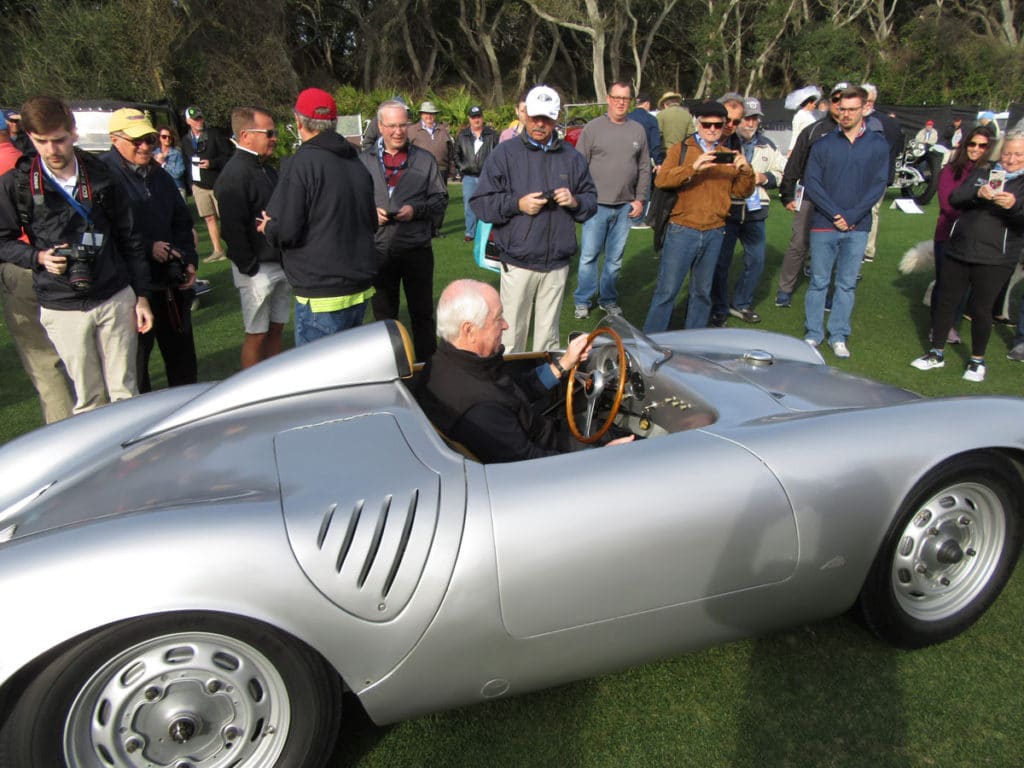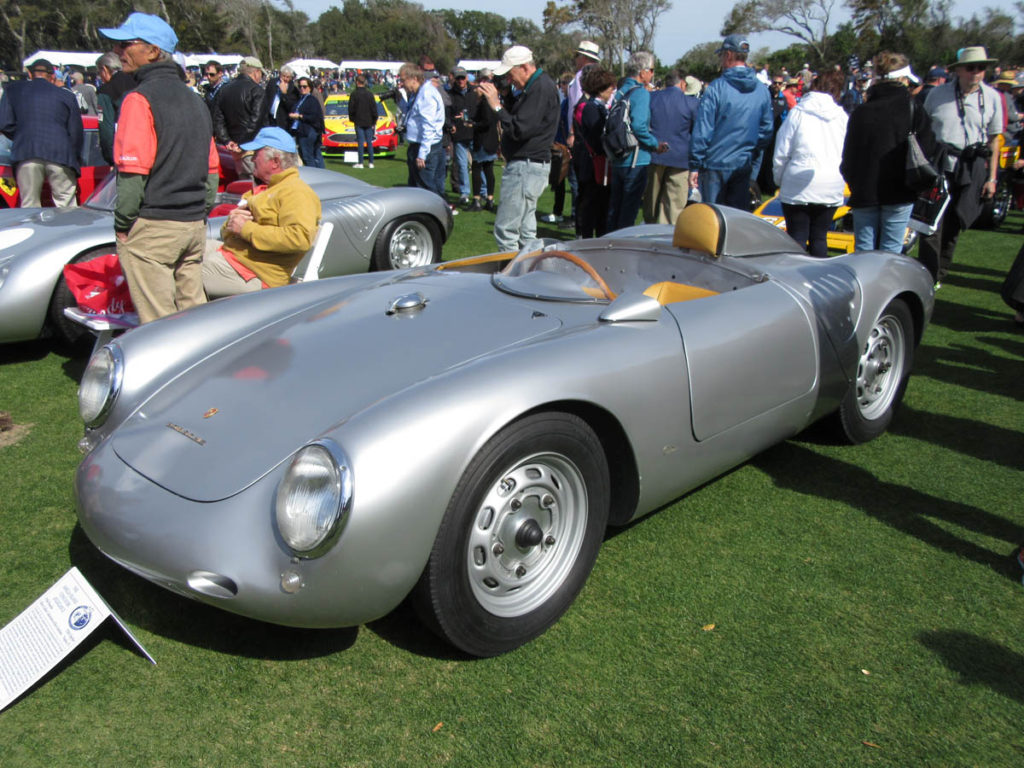 And now the tower story:
Included in the display was the infamous 1973 Sunoco Penske Trans-Am fueling tower that was designed and developed by the Penske team to fuel the cars faster. It worked but was used for only 1 race and immediately banned as unfair. Another Penske Team innovation!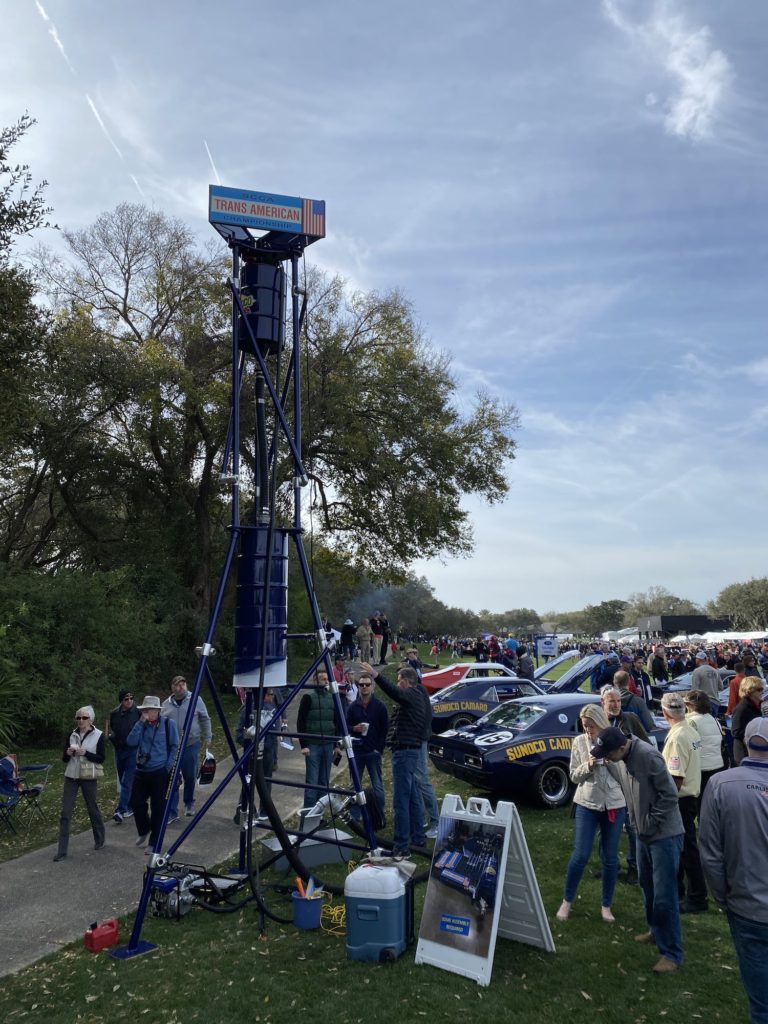 See full article on the tower by Hagerty at this link:
https://www.hagerty.com/articles-videos/articles/2020/03/12/nothing-bends-rules-like-this-penske-fueling-tower
The Amelia Island continues to exceed itself year after year and is an event not to miss.