CVR Member Profile: CHUCK VETH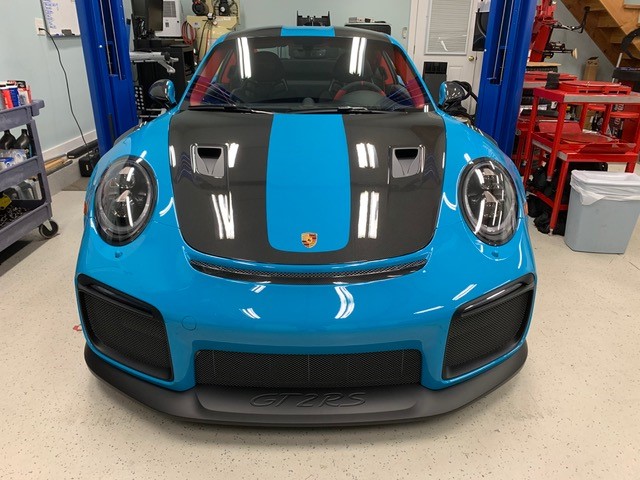 Chuck Veth has been a CVR member since 2001 and is now the Chief Instructor in CVR's Driver Education (DE) program. His current track ride is a 2018 GT2RS, on tires with contact patches slightly smaller than the island of Oahu. He pilots his cars with great skill—he is smooth and fast. Chuck is a Cornell educated electrical engineer and has worked as far afield as Australia. He owns and operates CVM, a Branford-based company that he founded in 1988, which specializes in IT Consulting and Cloud Services https://www.cvm.com. With his wife, Marianne, Chuck has raised a family of six children, and has two energetic Portuguese Water Dogs bounding around (judiciously staying clear of car surfaces). For many years, Chuck has been seriously committed to the work done by the Bowery Mission, and is a member of its Board of Directors https://www.bowery.org.
Susan—a.k.a. my Long-Suffering-Spousal-Unit—and I first met Chuck in 2007, during a North Country Region DE event at the Loudon, New Hampshire track. This was my third DE event—Green run group—and we had the good fortune to be seated with him at dinner, where he animatedly talked about his participation in the time trial race called, One Lap of America.
Being a new—not so blissfully ignorant driver—his description of this event astonished me, and evoked an image of a hybrid pursuit, combining a Decathlon with an attempt to conquer Mount Everest. Now, years later and with many laps under the belts in DE, I still think it's nuts. Chuck thinks otherwise and has completed thirteen of these grueling races. This May, he will participate in his fourteenth and I wish him great success.
Note: for another Challenge article about One Lap, please refer to the August, 2009 issue, pages 20, 22, 24, and 26.
On a cold, clear, February afternoon, Chuck graciously let me interview him for a few hours in his comprehensively-equipped, operating room clean shop. What CVR civilian do you know who has tire changing and balancing machines? If a person's workshop reflects its owner's personality, Chuck's shop gave me the impression of someone who embraces order, precision, and has serious intent. Because I felt it possible that many CVR members do not know about the One Lap event, Chuck's track-based passion, I asked that this be the topic of our conversation.
Background: mechanical know-how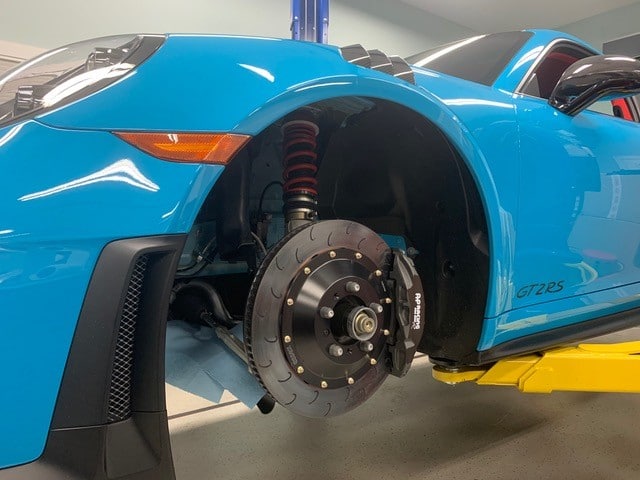 Chuck does much of the maintenance on his cars, stopping short of, in his words:
Chuck Veth (CV): Cracking open the engine and transmission. I have done this, but not in years, or on anything as sophisticated as a 911.
Charles (C) I am ham-fisted, so it amazes me that anyone would do anything on their Porsche, let alone tackle work on a GT3RS or GT2RS. I asked him how he came to garner the skills and courage to do this work.
CV: My dad was a car guy at heart. He owned an MG TD in college, so he had no choice. When I was younger, we built mini-bikes and go-carts, always from scratch. When I got my license and wanted to use the car to go out of town, he had me replace/repair something—ball joints, freeze plugs, water pumps, spark plugs, etc. I thereby got an education and got to use the car. So, I blame my involvement in motorsports on my Dad.
Background: the cars
3 Fiat X1/9s; Alfa GTV6 and 2 Milanos
CV: The Italian journey ended when I bought my first BMW and realized the Italians made great cars that may have been designed while being built, but not before.
11 Porsches, including: 911 SC; 964 C2 Turbo; 996 C2, GT3; 991 GT3; GT3RS; GT2RS
Background: racing
SCCA
NASA
PCA Club Racing
One Lap of America
SUMMER CAMP FOR ADULTS
CV: I call the One Lap, "Summer Camp for Adults." Of the seventy-five cars this year, more than fifty are return entrants. Of these, we may be on a first name basis with twenty-five of the teams. The scene on the first day of arrival is very similar to that when dropping your kids at summer camp. You have not seen these people for fifty-one weeks, but it seems as if last year's event ended yesterday.
CV: The One Lap competition is a week-long event that takes place each day at a different track. It is a time trial race comprised of teams. There are highly prepared race cars, sometimes driven by professionals, and much slower, stock, street cars, each combined to run in its appropriate class [I encourage you to look at the One Lap website to see some participants' race cars]. At each track there is a morning track walk—time permitting—then an orientation lap, and then three hot laps at speed. After your race, you pack up and drive—usually, hundreds of miles, sometimes over a thousand miles—to your hotel, situated near the next day's venue. In the morning you race and repeat.
C: This year's One Lap is comprised of nine tracks, starting in South Bend, Indiana, proceeding down to its southernmost point, Avondale, Louisiana, and looping back to end in South Bend. It begins on May 1st and runs through May 8th. The full schedule includes time trial, skid-pad, and drag-race, typically with eighteen timed components.
Scoring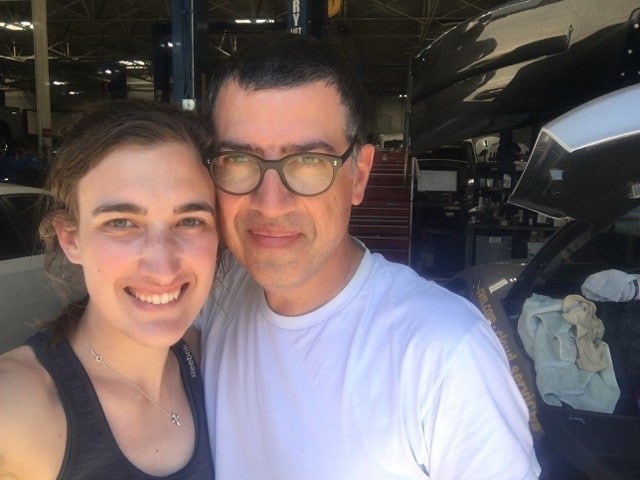 CV: Points are scored only during Time Trials. Typically, the first position gets 400 points, with subsequent positions dropping 5 points down. It's the car that gets the points, so any team member can drive the event. Many teams share the competition driving. 2021 will be my fourteenth year competing in the One Lap. My daughter, Christie, has joined me for the last eight years, from 2012-2019. To date, I have done the track driving, with Christie and I sharing the transit driving between venues. She is an amazing teammate, and as Marianne says, "She is on the project." Over the last eight years, Christie's ability to focus and be helpful has been invaluable. The rules state that you must drive the race-car between the events with all team members in the car. Support vehicles are not allowed, but pulling a trailer—if your car allows a hook-up—is permitted. [Have you ever seen a GT2RS pulling a trailer?] The tires must be street tires, with a treadwear rating of 220 or above, so no Michelin Cup or Hoosiers are allowed. The events are run rain-or-shine, so your tires must function in all conditions. My current tire of choice is the Michelin Pilot Sport 4S.
C: Who are the drivers and teams?
CV: Some come to One Lap for fun; others come to win. At the start of the event there are likely five teams who think they can win, with two thirds of the entrants competing to make the top ten, or take a class victory. The rest are just there for fun. Christie and I focus on a top ten finish, which we have accomplished for eight years straight. Our best finish was third, during a rainy 2019, in a 2019 GT3RS.
The Time Trial
C: The weeklong event is grueling, with most of your time in the car spent traveling between venues and hotels. Chuck's longest event had him covering approximately sixty-five hundred miles in seven days. In contrast, the time trials are short in duration.
CV: These are not like Enduro races: there are no twenty-minute practice and qualifying sessions, wherein you set your fastest lap time for position on the grid. Here, when you leave Pit Lane, you get one "Recon" lap and come to a stop at Start-Finish. You never get to experience Turn 1 at speed before the Time Trial, and you often don't get to exit the final turn at speed, depending upon Start-Finish. You then launch the car and drive three hot laps and one cool down lap. Your event time is not your "Flyer," it is the total time of your three hot laps from a dead stop. You need to be fast for all three laps and make no mistakes.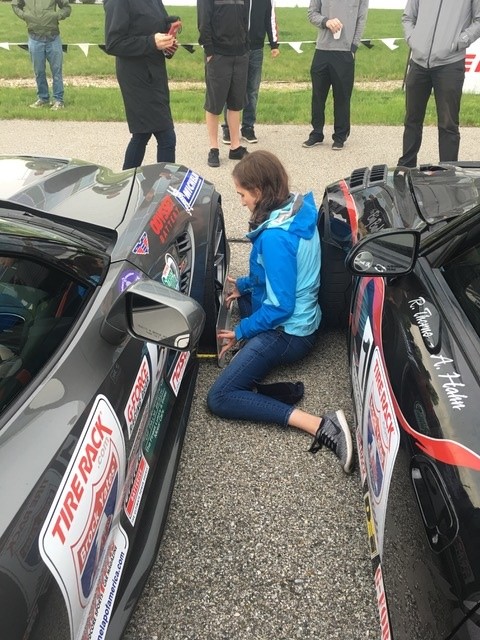 Preparation
CV: The event is a test of preparation, skill and stamina. If your car is on the ragged-edge it will not make it for an entire week. Maybe it is boosted to too high a limit. Or maybe your camber is so radical that you cord your tires—you are not allowed to change tires unless you suffer a road puncture. If a tire fails due to car set-up, you are disqualified. We bring brake pads, sometimes rotors, oil, coolant, and enough tools to actually do an engine swap. The most awkward tool we bring is the 600 ft-lbs torque wrench for the Porsche center-locks. [If you have never seen one of these…they are monsters and heavy]. The rules demand that all consumables are new at the start, so we need to be ready for the week. You need to first, get some sleep each night, even if it is only two hours at the Hampton Inn. Don't get off the sleep routine, otherwise you are in trouble. Second, watch what you eat. The "Golden Arches" look inviting off in the distance, on an otherwise dark highway, but don't be tempted. Stay on the road and eat a banana and a power bar at the next gas stop. Third, stay calm, The event wears you down and you find yourself becoming hyper-sensitive. Plan ahead so you do not miss a start, or a change in the schedule. Stay calm.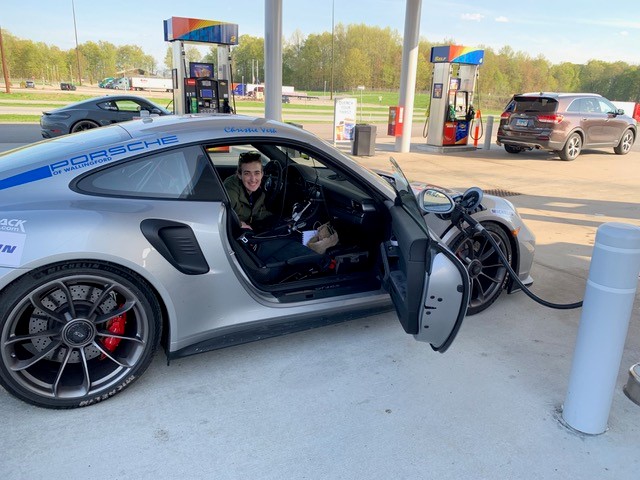 C: Apparently, Chuck has mastered the art of tool and luggage consolidation. Anyone who has owned a 911 might know that a toothbrush can fit, but then might wonder where to stow the tube of toothpaste. For Chuck to secure a full array of tools and consumables, plus clothing for a week, in all conditions, is an art-form.
Mechanical Issues
C: Thinking that at some point, in the course of his thirteen events, Chuck must have suffered a serious mechanical issue—even Porsches break—I asked him to describe the worst situation he has encountered.
CV: To date, our most significant car repair was replacing the clutch and transmission output shaft seal, on a 1991 C2 Turbo. All week at the 2006 One Lap, I felt like the car had torque issues and thought it might be the turbo. I launched it at VIR (Virginia International Raceway) and it crept off the line. But it got better once I was out for a lap. I called Dan Jacobs and he had me reach under the car—our local Porsche mechanics really know the cars—and there was oil coming from the bell housing drain hole. You know the one, where you can see the clutch, as long as your eyesight can bend around things. The issue turned out to be the seal on the transmission output shaft. UGH. As some might know, VIR has an industrial park of race shops outside the main gate, so we went knocking on doors and found someone who owned a Grand-AM car, and would do the work on the clutch. We then found a clutch at another shop. Back on the phone with Dan, he asked to speak with the mechanic who was going to help, who then turned the phone back to me. Dan decided that the mechanic was not up to the task and after a short pause said, ""Chuck, I'll be there in a couple of hours."" In Dan's shop at this time was a customer who is a private pilot for a professional sports team owner, who also loves cars. As told to me, the plane owner was informed of my plight and offered to have his pilot fly Dan, Baron (Dan's son), and the necessary parts down to VIR. Less than three hours later, Dan and Baron were standing in the shop with the parts. Wrenching took the rest of the day and Adam—my then teammate—and I left VIR just before midnight, in order to reach the morning event in Indiana's Putnam Park, just as it was starting.
C: dear reader; you think YOU take things seriously??!!
Going Forward
Chuck will be competing in this year's One Lap, after a year missed due to Covid-19, and he plans to continue this adventure for years to come. He has told me that at some point, Christie, his daughter and co-driver, might very well take the competition wheel, with Dad assuming the role of support staff. Christie has exhibited an innate talent for motorsports. Gee, I wonder where that comes from? Chuck tells me that when she participated in Rallies with him, her navigational skills and feel, at twelve years of age, were so extraordinary that they were consistent winners. Chuck says that one time, "A fellow competitor came up to him waving a hundred-dollar bill, begging to hire Christie and her Rally skills for the day." Chuck refused…but had a laugh.
Final Thoughts
CVR is the beneficiary of having among its membership people like Chuck Veth. He is intense, talented, a highly sophisticated car guy, and invests himself significantly in a multitude of people. He keeps things in proper perspective and tempers his need for perfection with calmness and kindness. Perhaps my highest praise of Chuck is, if and when Susan Young should drive in another DE, I can think of no better person to be her Instructor. Lastly, what car comes next, Chuck? Something alternatively fueled? Something with planetary orbiting capabilities, able to do one lap of the solar system, racing nose-to-tail with Elon Musk and SpaceX?
My money would be on Chuck.
Charles Young