What a milestone! A decade ago Hoffman Porsche enthusiastically embraced the idea of launching a special event to celebrate the driving skills earned in the CVR AutoX Series. This started one of the most unique events in CVR's history, the Hoffman Celebration.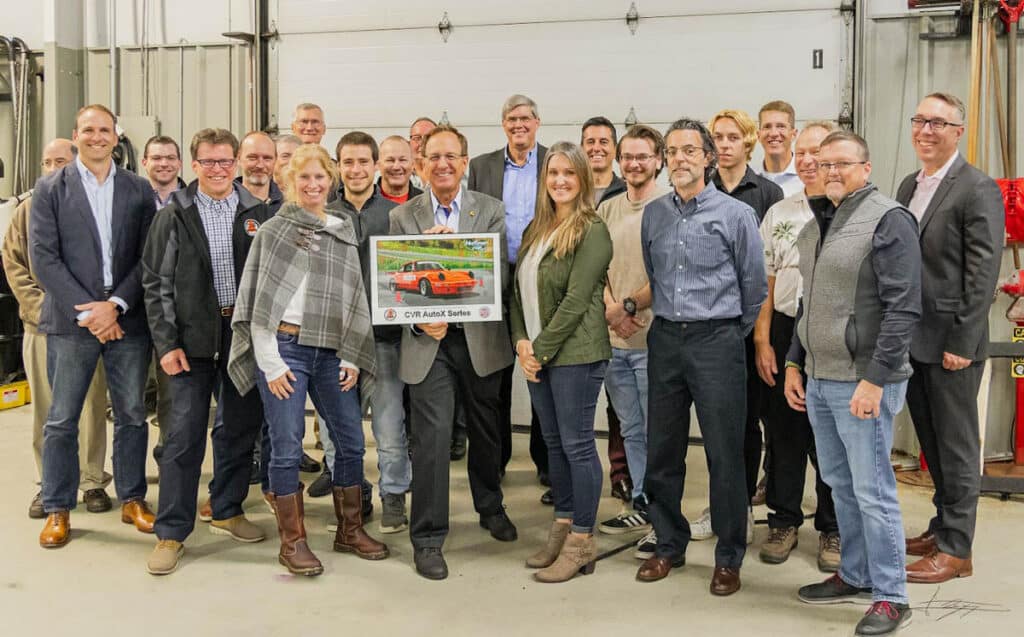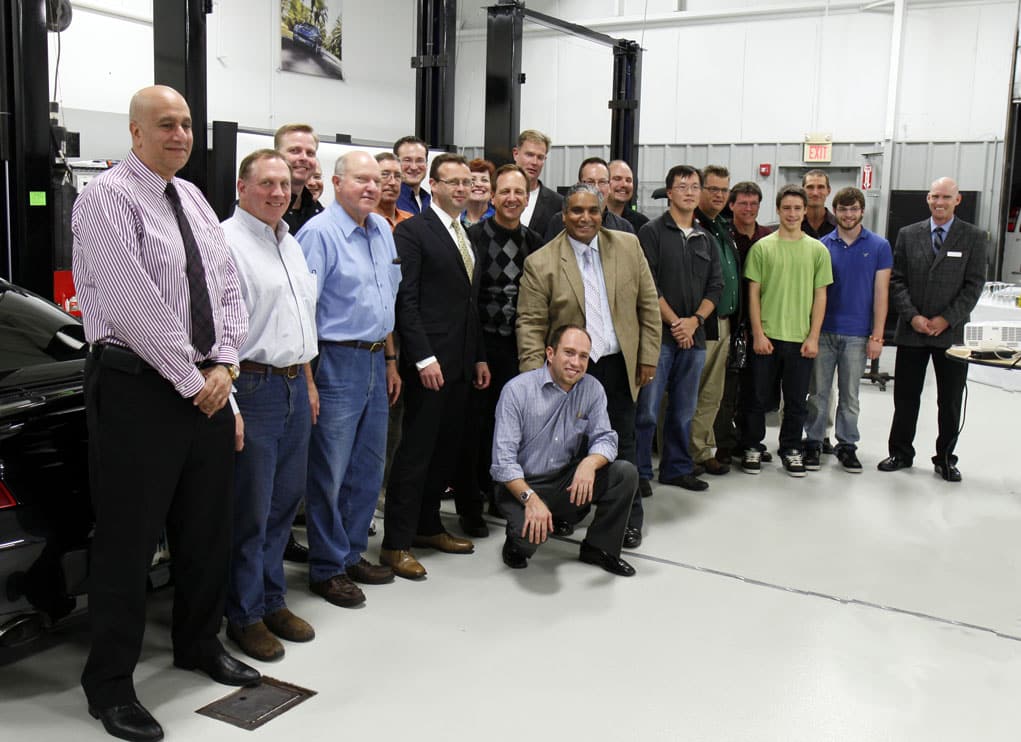 Marking the occasion in 2012, Porsche Driving School Chief Instructor Cass Whitehead was flown in from Birmingham to give a private driving session to the Top-20 AutoX drivers and their guests. He had us riveted, all looking for more knowledge, tips, and advice to drive even better the next year. Tablecloths, fancy culinary treats, beverages, and memorable desserts made for an unforgettable evening. Door prizes that exceeded the famous Parade Volunteer party added extra motivation to improve our driving skills as the way to secure an invite the following year. An event not to be missed!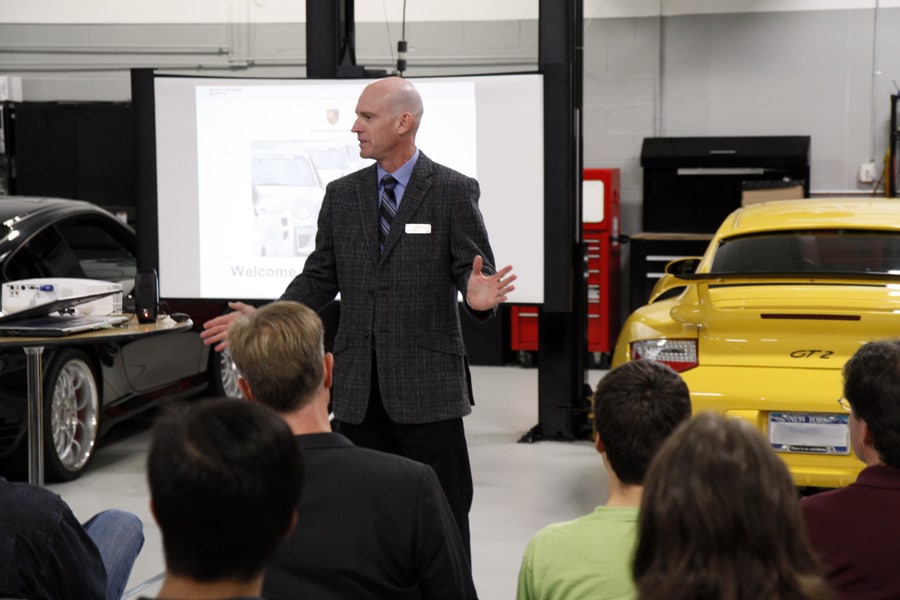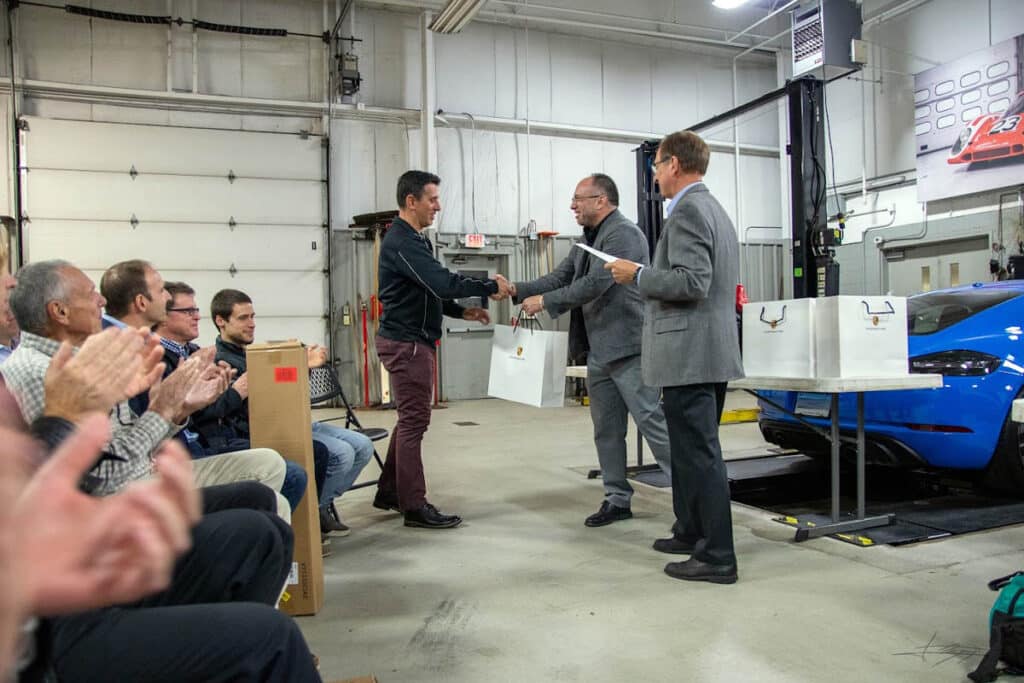 Two years later, another special event was launched. The now legendary Hoffman Cup Run Off proved to be even more unique. After years of searching and discussing at the PCA National level, I still cannot find anything similar across all of PCA or the other 177 Porsche Clubs in the whole world. CVR's Top-20 drivers all run in the same car provided by Hoffman Porsche, for a no-excuses back-to-back display of their cumulative driving experience. With over 63 events in CVR's calendar, these two events stand out as crowning jewels and they have helped make CVR's AutoX Program arguably the finest in all of PCA.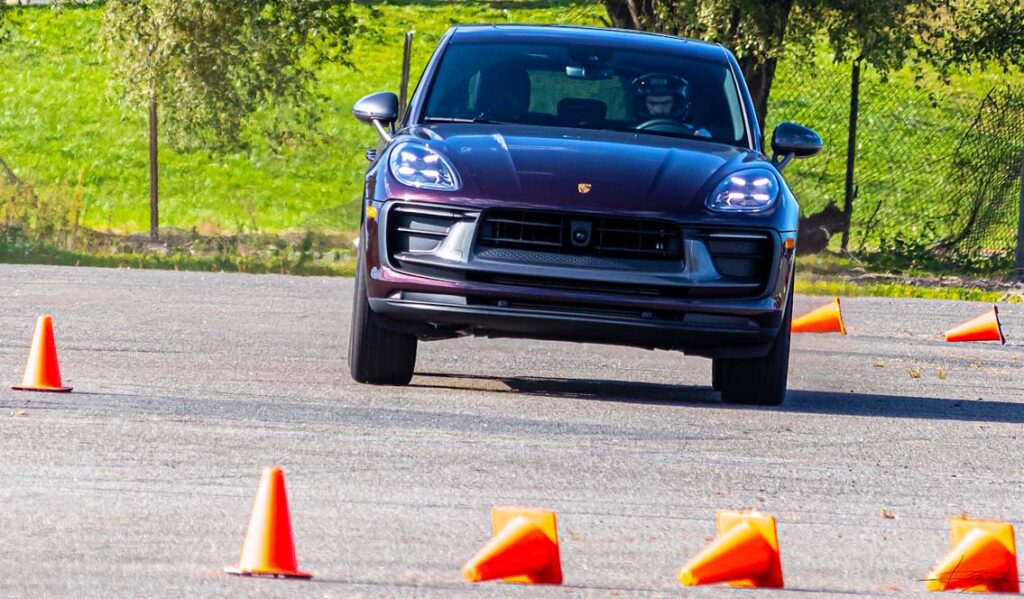 This year the Hoffman Cup Run Off forced the Top-20 drivers to ascend the learning curve even faster than usual. We were given a new and surprising challenge, driving a wonderful Macan as the run off car. What a great choice of vehicle since most of us had never even driven one before, let alone raced one.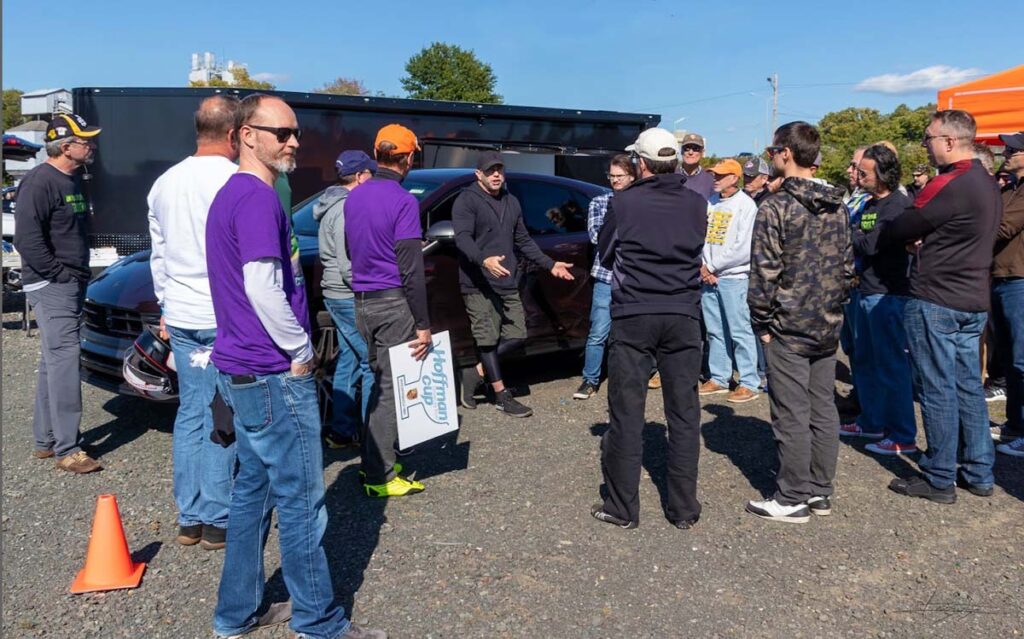 The Macan proved how robust Porsche makes everything as it shrugged off 60 fast runs in a row. Launch Control, Sport Plus, Overboost…Ha! Bring it on! The Macan impressed us with how it definitely drove and felt like a Porsche. It was surprisingly sporty and responsive at the limit, no doubt helped by being a Macan "T" model. This was the best kind of "test drive" you could ask for to see how the model handles and reacts. Let's just say that there are many more Macan Ambassadors in our ranks now. With such a fabulous blend of Porsche feel, daily practicality, and speed, it makes you wonder why anyone would need a "higher" model. Of course, recognizing that "need" and "want" remain distinct.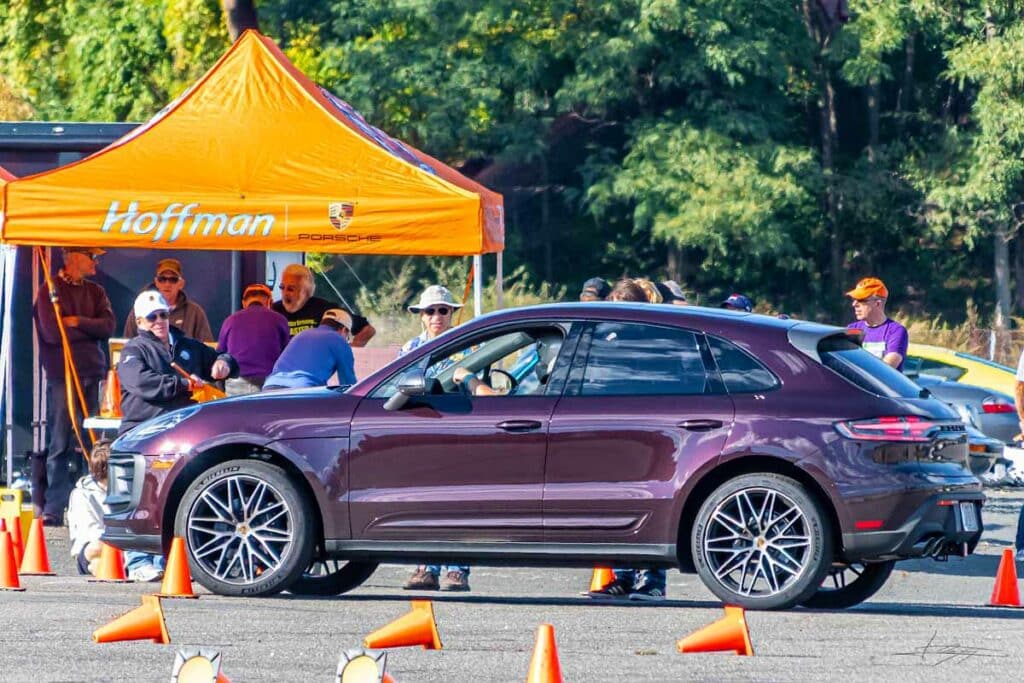 Each year the driving skill bar gets raised, the young talented drivers gain experience, and the quest for Hoffman Cup glory gets tougher and tougher. After the random starting order is drawn (thanks Elisabeth!), three attempts were given to each driver. Times got faster, but each fast run was at risk until the last run was over. Drivers were quick to show their skills but equally quick to offer any help and feedback that would help the others.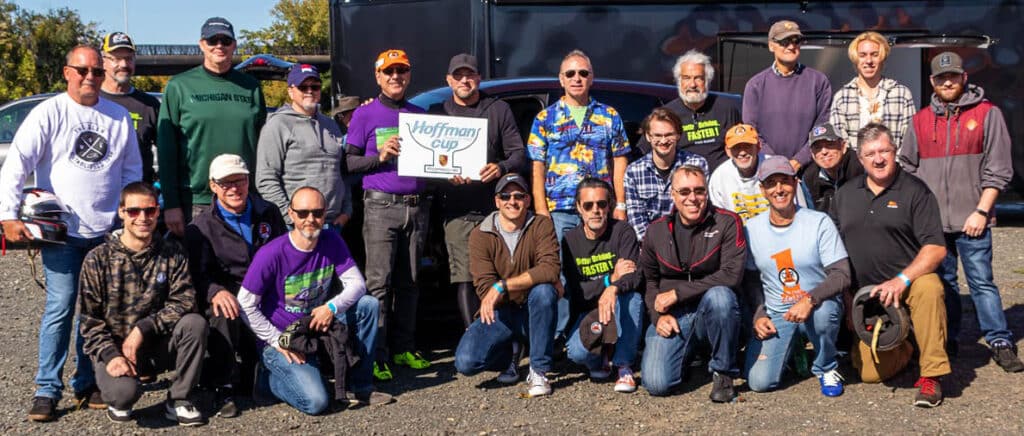 "King George" (Comenale) wasn't about to relinquish his crown easily and he made another inch perfect run to motivate us all. Jeff Fournier and Eric Frohman scared us with their youthful exuberance tempered with just the right amount of calibrated restraint. Tony Bogue's drifting background was worrisome to all since his lightning-fast throttle control was matched by his fast hands. "The Brian's" (Fournier and Ruggiero) both displayed their characteristically deceptive smoothness that was worrisome to those that could spot good driving. One after the other we all humbled ourselves, as everyone cheered each other on to put down a fast clean run. With Launch Control, Sport Plus, and Traction Control settings mostly figured out, the third run was a nail-biter. Somehow the winner was able to eek-out a miniscule margin over George as slight redemption for the spanking we all received the year before. Did I mention how humbling this event is?
With the 2022 CVR AutoX Series Championship and the Hoffman Cup Run Off behind us, you can log into the Members Only portion of the CVR web page (https://cvrpca.com/membership-login/), to enjoy the Hoffman Cup results and the season long Championship AutoX results. There's a winter's worth of contemplation when studying them and comparing the two. What would've, could've been?
Looking at the 2022 AutoX results, you'll see why we are proud to announce these deserving Annual CVR AutoX Award Winners: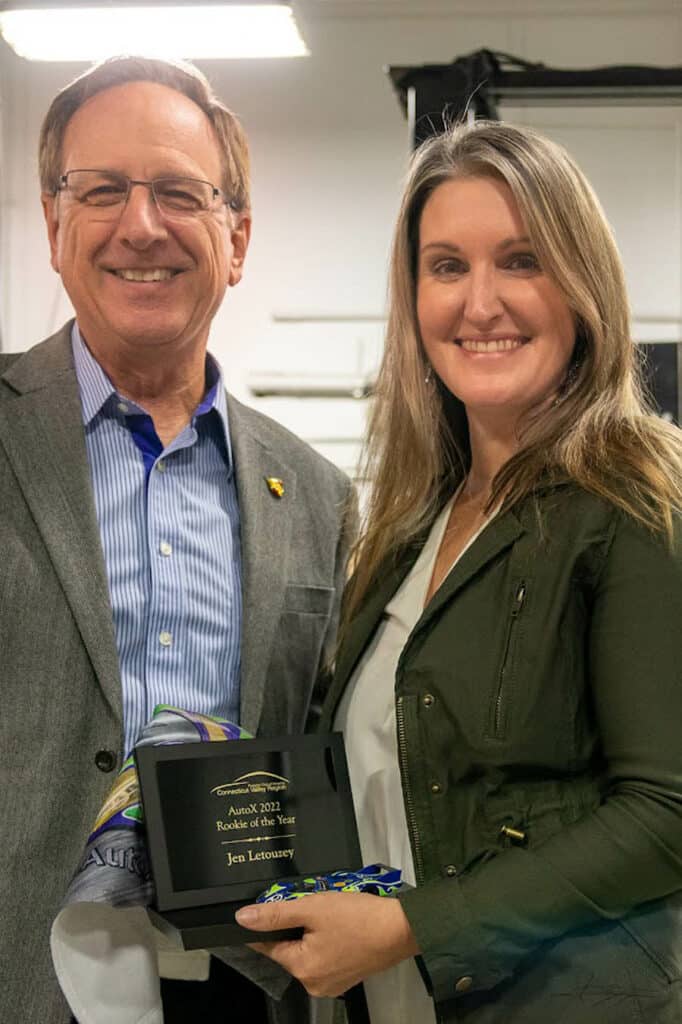 2022 AutoX Rookie of the Year: Congratulations to Jen Letouzey in recognition of an outstanding first season of driving. She has shown uncommon spirit, learning, and attack, as well as enthusiasm and helpfulness. Maybe having perfect attendance was the key as she hasn't missing an AutoX since she started. Jen's skills have grown from 80% of the fastest time to nearly 88%, something that typically takes years to achieve. Along the way she had a great drive at the radically different and fast Pocono Parade AutoX, earning her a win there. Other good drivers in her class know they have to drive really well now if they want to beat Jen's times. Quite a debut!
2022 AutoX Most Improved Driver: Congratulations to Noelle Talmon for her impressive steady progression in her driving journey. Usually it takes years to be able to show such growth, often accompanied by several plateaus or back-slides in scores along the way, as the driving skills take time to solidify. Few people have made such steady and significant progress, let alone a rookie. At each of Noelle's four AutoX events she gained 1-2 percentage points, without fail. Most everyone else can only dream about such rapid and ascending progress. Her driving skill advancement is only matched by her unending enthusiasm. Maybe that's the secret?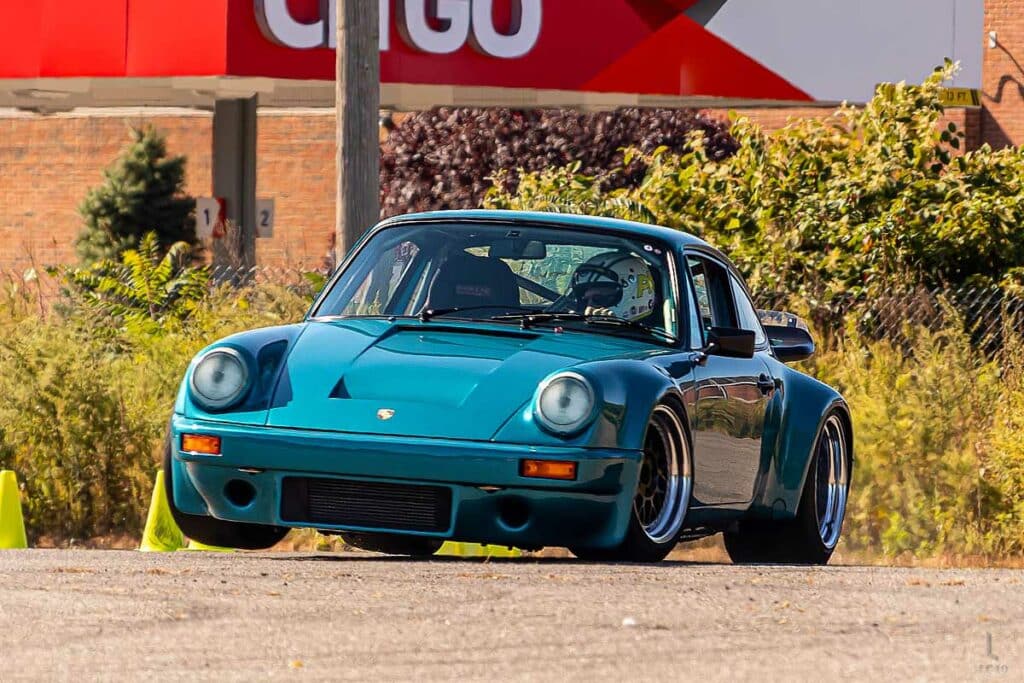 2022 AutoX Overall Champion: Paul Kudra. Clear from the very first event of the season, my dear friend Ed Bogue would make me drive my best, or even better, if I wanted to keep up with him. What a privilege to have such a circumstance. What a joy to mutually cheer and encourage each other, and to savor each other's great runs together. Thank you for pushing me and I look forward to more next year. Wouldn't want it any other way.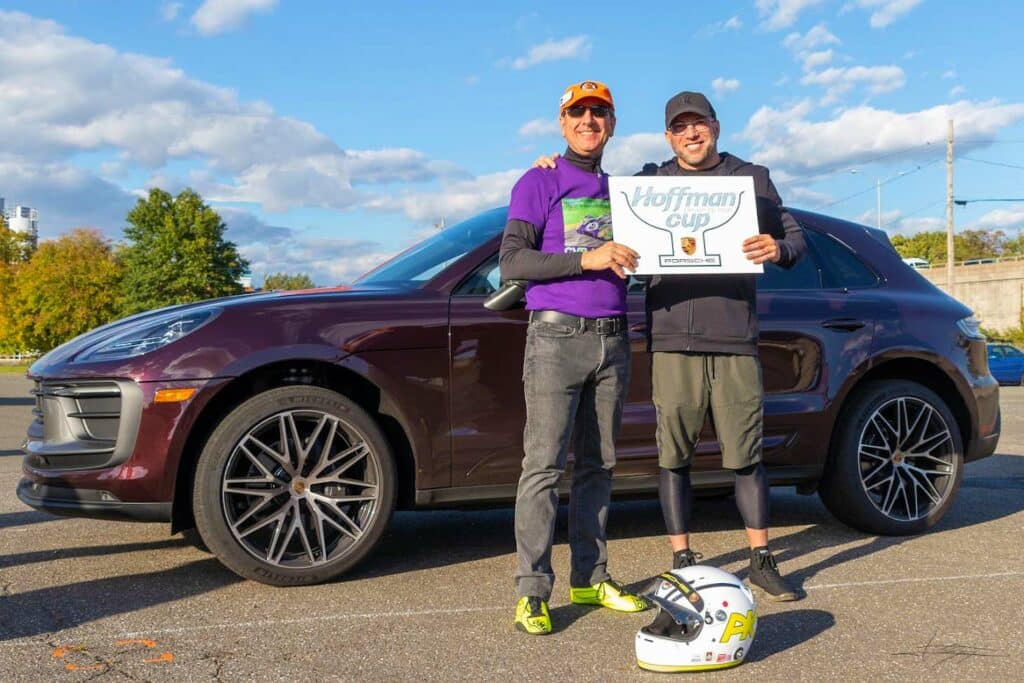 2022 Hoffman Cup Champion: Paul Kudra. Did I mention how humbling this event is? It's great to have driven well and to have put in a winning time. I celebrate that. It's tempered however by reflection, knowing I should've, could've been better. Tempered knowing others could have as well. I will remember the magical happiness of that day as we all basked in the pursuit of driving our best surrounded by such good friends. Witnessing each other's great drives, immersed in fantastic camaraderie, is what I will smile about each time I glance at the trophy. Not coincidentally, I chose to make a painting of the Donohue winning IROC car to freeze that moment and my smile.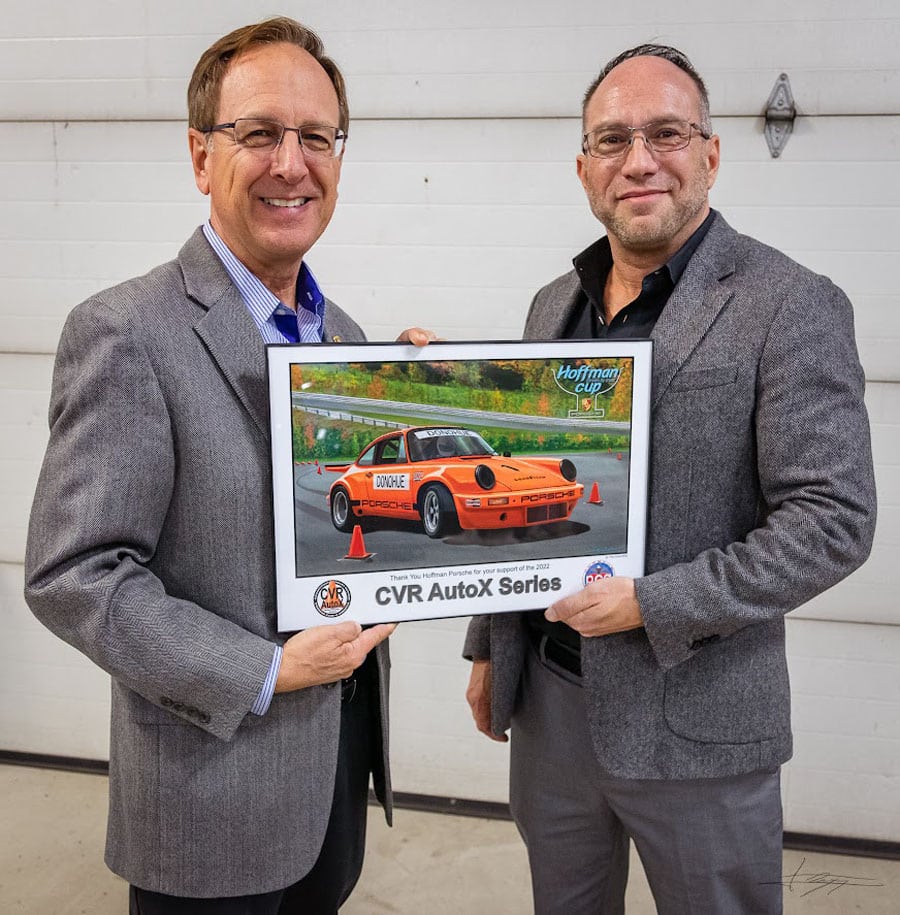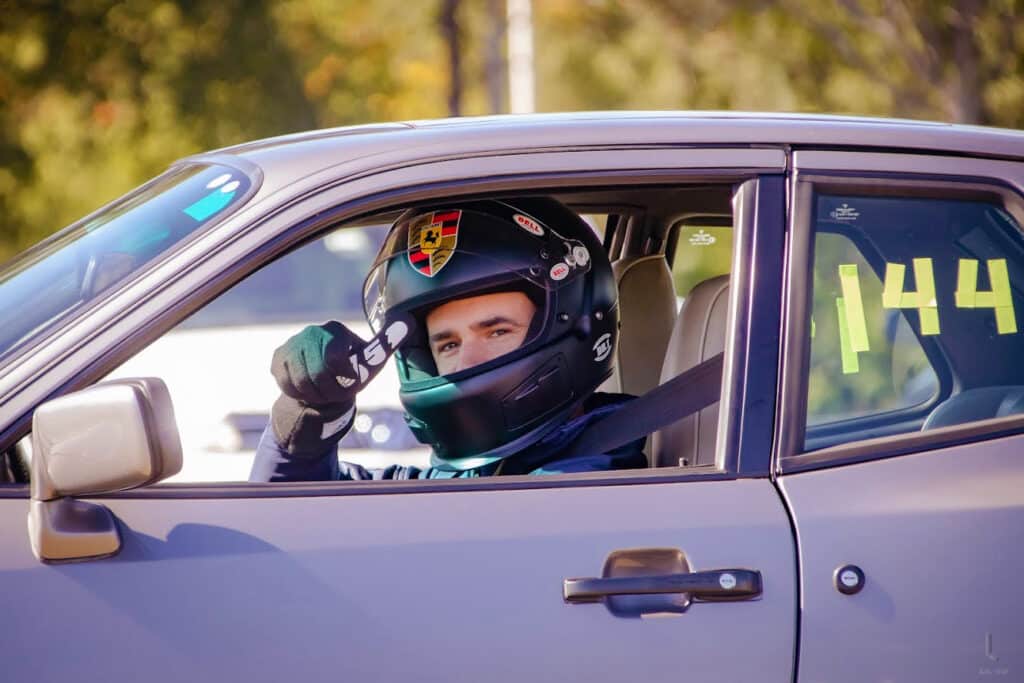 It's hard to imagine topping this season, but I know together we will. With such a great team, innovation and fun are assured. Learning is the fuel that keeps our program burning strong. If you value "driving well", and have a humble mindset that "there is always more to learn", then please join us next season to achieve both. At each event we'll help you see, talk about, then apply the different AutoX-University driving skills, and help you translate them from theory into real life. Get your slice of Better Driving…Faster! Be forewarned, doing so with friends is contagious fun!