Open Volunteer Positions
CVR relies on volunteers to make its events successful.  While events like Tours, DE, AutoX and Rally have the most visible member positions, there are also volunteers working behind the scenes to make sure that every CVR event is successful and goes off without a hitch. Some of these positions are seasonal, while others require a monthly commitment.  All of them provide a great deal of satisfaction and are a great way to meet people within CVR and other nearby clubs.
We thank you for your interest and hope you'll consider volunteering for one or more of these positions.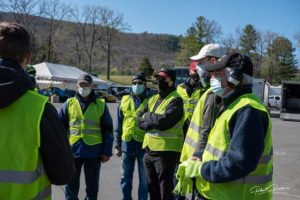 As the person responsible for overseeing the Club's Facebook, Instagram, Twitter, and YouTube Channels, the position of Social Media Chair is one of the most visible – and active positions within CVR. In this role, you will work closely with all of the Club's other activity chairs to promote the Club's activities and it's core values, as well as those of PCA National and Porsche.
Social Media Chair Responsibilities:
Execute a results-driven social media strategy.
Develop and curate engaging content for social media platforms.
Assist in the creation and editing of written, video, and photo content.
Attend events and produce live social media content.
Maintain unified brand voice across different social media channels.
Collaborate with the marketing team to create a social media calendar.
Monitor social media channels for industry trends.
Interact with users and respond to social media messages, inquiries, and comments.
Review analytics and create reports on key metrics.
Assist in the development and management of social media marketing and influencer marketing strategy.
Social Media Coordinator Qualifications / Skills:
Passion for social media and proficiency with major social media platforms and social media management tools
Proficiency with video and photo editing tools, digital media formats, and HTML
Excellent social listening skills
Ability to understand historical, current, and future trends in the digital content and social media space
Strong copywriting and copy-editing skills
Top-notch oral and verbal communication skills
Impeccable time management skills with the ability to multitask
Detail-oriented approach with the ability to work under pressure to meet deadlines
The Social Media Chair reports to the Club's Marketing Chair. If you'd like to be considered for this role, please fill out the form at the bottom of the page and select "Social Media Chair" from the subject dropdown.
CVR is seeking an Email Coordinator to be responsible for the scheduling, creation, execution, and analysis of email marketing programs. This position will maintain the Club's email marketing calendar and execute against it as scheduled. In addition, the coordinator will work closely with all members of executive management, marketing, sales, as well as activity chairs to
ensure that Members are kept aware of club activities. The Email Marketing Coordinator will run email programs from end to end, including planning, creative development, scheduling, trafficking assets, segmentation, testing, and analysis.
Responsibilities:
Work closely with marketing, graphic design, and activity chairs to create and deliver compelling email communications for the club including newsletters, surveys, and new member promotions.
Oversee email operations to ensure that emails are completed and deployed on time.
Monitoring of campaign and delivery performance
Segment email lists and develop systems for nurture campaigns to various audiences.
Manage subscriber database to grow the email list and improve response.
Assist the graphic design and web development teams in creating highly responsive and effective landing pages.
Measure the effectiveness of email marketing campaigns and monitor subscriptions to continually improve ROI from email marketing efforts.
Assist in writing and editing content for email distribution.
Analyze analytics and generate performance reports for the Board.
Log and monitor web development bugs impacting the email marketing program to ensure they are addressed in a timely manner.
Other duties as assigned.
Qualifications
Experience in marketing or communications
Experience writing and editing
Understanding of CAN-SPAM and email best practices
Web analytics experience
Strong quantitative and analytical skills to drive actions
Excellent planning, organization and time management skills
Strong attention to detail
Willingness to learn and a passion for marketing
Experience with Microsoft Office, especially Excel
Excellent verbal and composition ability, plus a high degree of professionalism
Ability to operate and meet deadlines under pressure
The Email Coordinator reports to the Club's Marketing Chair. If you'd like to be considered for this role, please fill out the form at the bottom of the page and select "Email Coordinator" from the subject dropdown.
In the photo editor role, you will browse through dozens of images to determine the most appropriate visuals to convey a story. It is critical that you adhere to PCA's standards, and check to make sure that none of the photos posted to a CVR property (website, Instagram, Facebook, etc.) to avoid violations. Success in this position will be demonstrated by increased views, readership, and engagement.
Photo Editor Job Responsibilities and Duties
Creates a portfolio of visual assets
Manages photography projects
Procures and manipulates photos and images as needed
Reviews project pipeline and anticipates photo needs
Ensures adherence to style guide and branding
Collaborates with photographers, marketing team, and editors to ensure alignment
Handles photography paperwork
Photo Editor Job Requirements
Proficient in Adobe Photoshop or similar
Deep understanding of photography styles and techniques
Creative and detail-oriented
Excellent communication skills