Welcome to the 2023 AutoX Season
With strong support from Hoffman Porsche, CVR has built one of the very best AutoX (autocross) Programs in all of PCA. Join the fun and go home a better driver.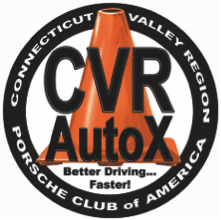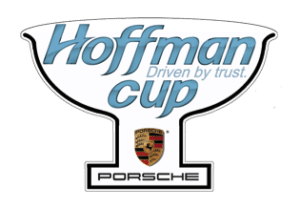 New to AutoX?
AutoX is a very exciting form of motorsport held at typical street and highway speeds. It emphasizes precise car control in a low-cost, friendly and safe competition. Learn and rapidly refine advanced driving skills and techniques in the non-threatening and safe environment of a course marked by traffic cones in a large parking lot. You are encouraged and coached by advanced driving instructors about the basics and the fine points of driving to the edge of your and your car's limits. Enjoy your car's handling like nowhere else and discover the fun and camaraderie of CVR AutoX. CVR recommends that you drive AutoX before your first Drivers Education event since the skills are directly transferable.
For helpful AutoX and Novice information click HERE.
Also check out 10 Tips to Enjoy Your First AutoX.
See what it's like to drive an AutoX flat out! Watch some archived virtual CVR Autocross Videos. They "feel" like driving the actual courses. They start off with slow speed drives to show you the course, progress to faster runs that point out how you should be looking ahead, then take you on a thrilling run by our expert Chief Instructor, posting times that are typically what the real fastest cars achieve.
Limited loaner helmets for Novice class drivers (up to your first three events) will be exclusively reserved for free on a first-come basis by emailing Paul Kudra autocross@cvrpca.org. Free head socks will also be provided. This may be helpful if you want to try a helmet size before you order your own Snell 2020 SA rated helmet online. "SA" stands for Special Application which is for car motorsports. Snell 2015 and Snell 2010 ratings are still acceptable for AutoX (use of 2010 helmets will expire in 2025).
2023 CVR Championship AutoX Series:
Championship points from your best 3 finishes will be counted towards the 2023 championship. The Top-20 finishers also get to compete in the famed Hoffman Cup Run Off event. Drive all events for your best chance.
(1) May 13 – Hartford LAZ Lot
(2) June 3 – Hartford LAZ Lot
(3) July 15 – Hartford LAZ Lot (Now Live!)
(4) Aug 5 – Lime Rock Park B-Paddock
(+) Aug 26-27  – Zone1 AutoX – Ayer MA
(5) Sept 9 – Lime Rock Park B-Paddock
(6) Oct 7 – Postponed to Oct 8 due to Weather Hartford LAZ Lot (Incl. Hoffman Cup)
Registration is at: https://www.motorsportreg.com/
Updated Car Classes for 2023
Please check your car class (New 2023 Car Classes) before registering! CVR will use the new Medium sized PCA AutoX event Car Class grouping for the 2023 season. Some classes are consolidated, new car models were added, and the overall class count was slightly reduced. Careful review of each change was made based on data and experience from across PCA to help make fewer 1-car classes and avoid over-populated classes.
Rules
Please be familiar with the CVR AutoX Rules to do your part in keeping events safe, fair, and running smoothly.  In other words keeping them fun!
Registration:
Before you register, please correctly classify your car (New Classes in 2023!!):
Quick Classification Guide
CVR AutoX Class Table
NEW (UPDATES): CVR PCA AutoX is open to all Porsche Club of America members. Non-PCA member drivers must be an invited guest of a PCA member driving at the event. PCA members are allowed to invite up to one non-member per event. Due to site and event logistics, attendance will now be limited to the first 70 people, with priority to CVR members driving Porsches, then CVR members driving Other cars, then one non-Porsche guest per attending CVR member, then non-CVR PCA members, based on sign-up date/time if needed.
Registration is online only at http://www.motorsportreg.com. No "walk-up" registrations will be allowed. It closes the Wednesday prior to each event at midnight and is $40 for PCA members and $45 for non-members. You may cancel any time before the event starts, with a full refund or credit, however please do so as soon as you can so we can re-plan the schedule without you. We run rain or shine and encourage you to attend if it rains for even greater learning and fun!
Quick Guide for Online Registration
All attendees under 18 years old need this waiver: Minor OBSERVER Waiver
All 16 and 17 year old drivers must have a valid driver's license and this: Minor DRIVER Waiver
Event Schedule
7:15-7:45: Arrive at Event
7:45-8:15: Check-in and course walk
8:30: Drivers Meeting
9:00: First Car Off
3:00-4:00: Last Runs & Trophies
2023 Health Guidelines
Please continue to follow all public health guidelines and be respectful of the safety of our members, friends, and the community. Don't forget the usual health related items such as your own water, food, sun-screen, and chair. Dress for the elements.
AutoX-U
AutoX-University classes are held at each event to promote "Better Driving Faster!" for all levels of experience. A unique course is designed to complement the driving skill featured that day. The course maps (and sometimes virtual drive videos) are posted on this page about a week before each event to help you learn each new course and make it easier to concentrate on the AutoX-U driving skills featured for that event.
2023 Course Maps are published approximately one week before each event
Courses are designed to be safe, to feel FAST, and to be FUN! Imagine driving a twisty back road at highway speeds but in a safe parking lot. Many features are used to make the course easy to follow, including two colors of cones, directional arrows, other signs, and visual landmarks.
CVR Autocross Videos
See CVR Autocross videos:  http://www.youtube.com/user/CVRPCAAutoX
2023 CVR AutoX Loyalty Program
Camaraderie and friendly competition are the hallmarks of CVR AutoX. To reward our loyal members that drive most, or all, of the events we provide unique CVR AutoX Loyalty limited edition gifts. Don't miss yours this year!
Directions
Hartford AutoX events are held in the parking lot on Pequot Street, Hartford CT (behind the Citgo gas station on 410 Market Street).
Directions to LAZ lot Hartford, CT
Lime Rock Park AutoX events are held in the B-Paddock (next to "The Downhill" turn), entrance to the Park is at 60 White Hollow Rd, Lakeville CT.
2023 & Previous Year's Results
Login to the Members Section to view results.
2023 Course Maps
May 13th, 2023 Course Map
June 3rd, 2023 Course Map
July 15th, 2023 Course Map
Aug 5th, 2023 Course Map With Line – Map Without Line
September 9th, 2023 Course Map
October 7th, 2023 Course Map   – Postponed to Oct 8 due to Weather
2022 Course Maps
April 16th, 2022 Course Map
May 28th, 2022 Course Map
July 9th, 2022 Course Map
August 6th, 2022 Course Map
September 10th, 2022 Course Map
October 9th, 2022 Course Map
2021 Course Maps
May 8th Course Map
June 19th Course Map
July 10th Course Map
August 14th Course Map / No Line Map
September 11th Course Map
October 16th Course Map
2020 Course Maps
October 10th Course Map
OR… for an alternate view to visualize the course
Oct 10th Course Map with No Line Shown
Virtual Drive
2020 Final Results
2020 Road Scholar Results
2020 Final Results
Have a question? Please let us help. Contact:
V.P., Autocross: Paul Kudra – autocross@cvrpca.org