Concours derives from the French term Concours d'Elegance, which translates as "a competition of elegance." Concours' date back to the 17th century French aristocracy who showcased their fanciful carriages in full-blown parades; but over time, as transportation evolved, so did Concours. The simple gathering of carriages would change into a competition between automobile owners judged on appearance of their cars.
Today, Concours is best described as a car show where owners compete based on overall condition or preservation of their vehicle.
Within CVR we take a more laid-back approach, with each Concours structured as a People's Choice event. All types of Porsches are welcomed at the CVR Concours!
Read more about Concours in Challenge.
Registration for the 2022 Concours is now open!
– October 15, 2022 – People's Choice Concours in Farmington, CT – Register here.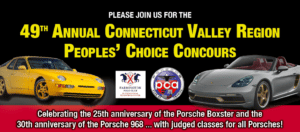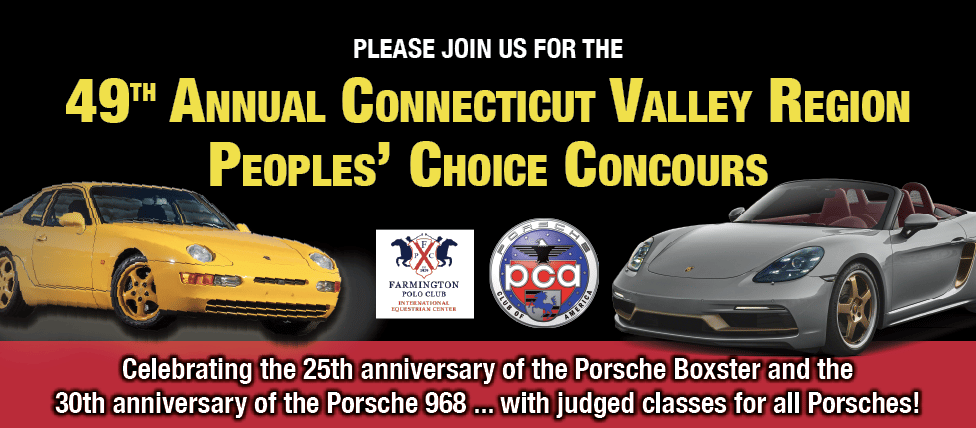 For 2021, we held two Concours events!
– March 2021 – Virtual Car Show – View HERE!
– October 2, 2021 – People's Choice Concours in Farmington, CT – Registration has closed.

Concours Results
2021 Concours Results
2020 Concours Results
2019 Concours Results
2018 Concours Results
2017 Concours Results
2016 Concours Results
2015 Concours Results
2014 Concours Results
2013 Concours Results
2012 Concours Results
2011 Concours Results
The Mary Ann and Jim Newton Concours Award
Each year the CVR Concours Co-Chairs select a CVR member to receive the prestigious Mary Ann and Jim Newton Concours Award. The Award was created in 2006 to honor Mary Ann and Jim Newton for their 23 years of service to CVR as Concours Chairs.
This award is presented to the CVR Concours participant whose personality and dedication to the Concours Program serves as a model to others.
The Mary Ann and Jim Newton Concours Award Recipients:
2006 – Ray Minella
2007 – Mieko and Mike Odierna
2008 – Diane and Jim Martin
2009 – Ernst Benzien
2010 – Jordan Bochanis
2011 – Lew Trusheim
2012 – Steven Harris
2013 – Prescott Kelly
2014 – Shelley Krohnengold
2015 – Jerry Charlup
2016 – Jeff Coe
2017 – Dick Strahota
2018 – Mike Sutka
2019 – Frank Arute
2020 – No Winner (Due to modified event format)
Contacts
Concours Chair: Michael Keller – concours-chair@cvrpca.org
Concours Co-Chair: Rob Keller – concours-co-chair@cvrpca.org