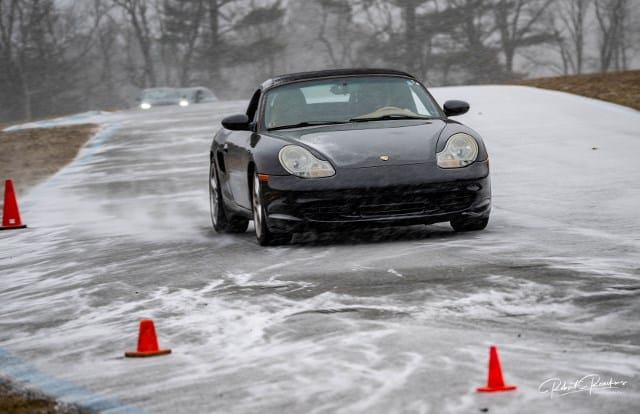 February 25, 2023 at the Lime Rock Park/FCP Proving Grounds. If you were not there, you missed out on a truly great day for CVR's Winter Workshop Car Control Clinic. For weeks leading up the event we were hoping we would have a coating of snow, since up until the event, this winter was mostly the 'winter that wasn't'.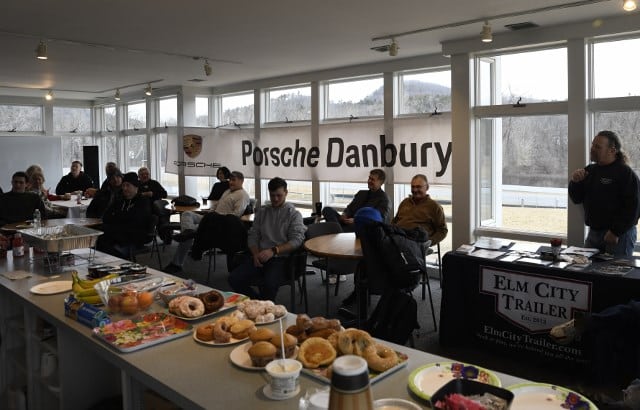 We had an early start with gates opening at 7:30 a.m. While everyone got signed it, there was a light breakfast set out, for all to enjoy. Thanks to Dunkin' Donuts in Danbury for donating a great selection of muffins, donuts and bagels.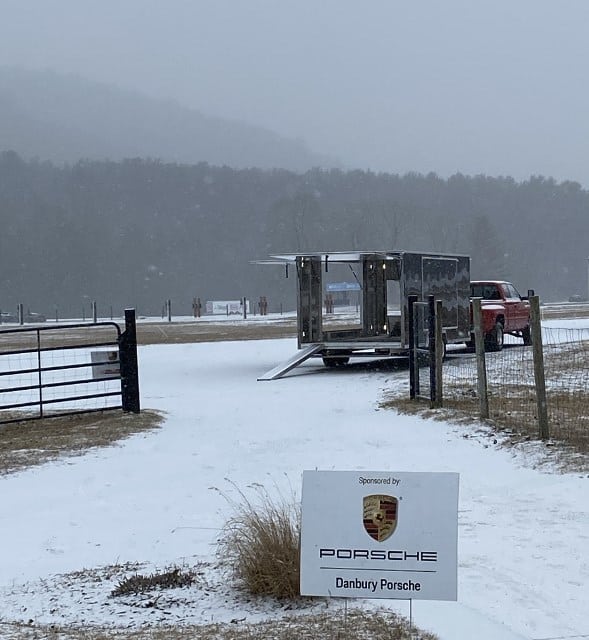 Elm City Trailer had a beautiful enclosed Trailex trailer set up right in front of the LRP Chalet, for everyone to take a look at. The trailer was fully loaded, with cabinets, under the floor storage, tilt-up doors on both sides for easy access, extra height inside, all with a black shiny finish. It was gorgeous.
It looked like we were going to have a cold but dry day. Last year we asked our good friend Jen, the office manager at LRP, to please pray for snow, and instead she said she would do a snow dance. And last year, we had snow. This year, she claims that she had to do multiple dances leading up to Saturday and as last year, she came through again. Flurries turned out to be several good accumulating inches of the white stuff.
Here's what the Porsche Danbury flag area looked like, at the LRP Chalet when we started the day.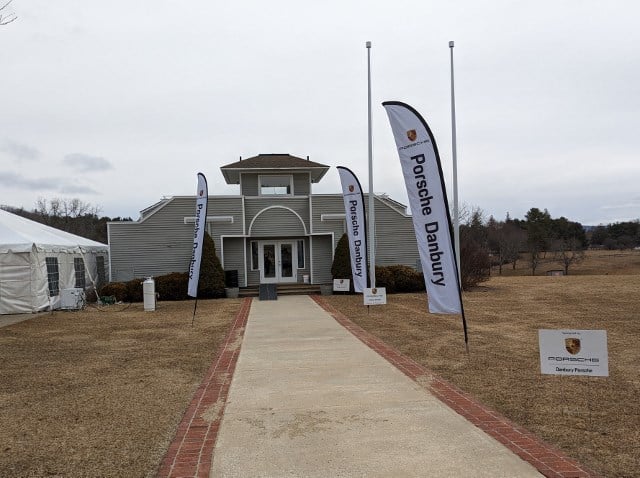 Here's what the same area looked like just a few hours later.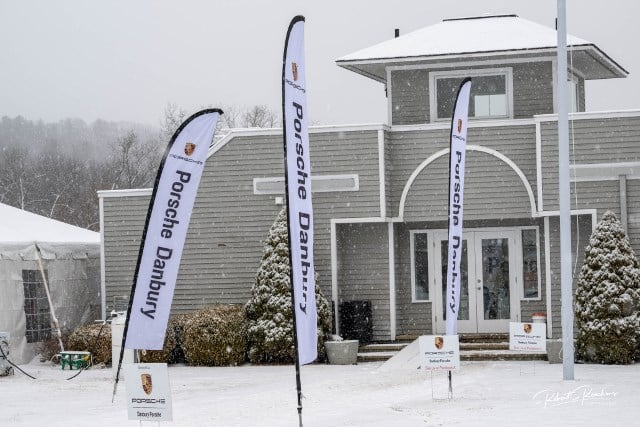 Our day started out on course at 9:00 a.m., with gray skies and a temperature of 17 degrees – great weather for sliding a car around a tight race course.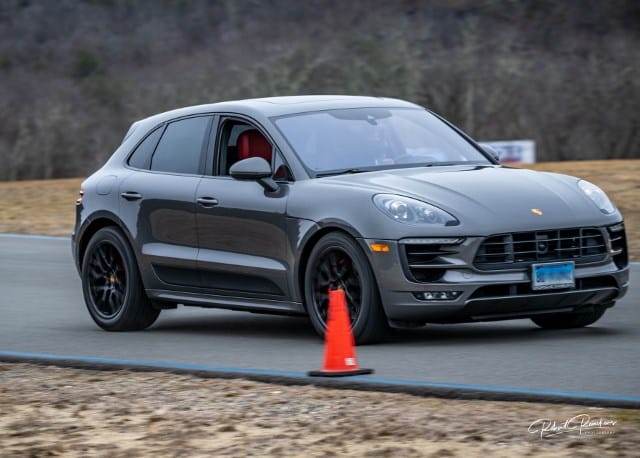 We broke the drivers out into three separate groups and they headed over to either the upper or lower course or B paddock, for their fun to begin.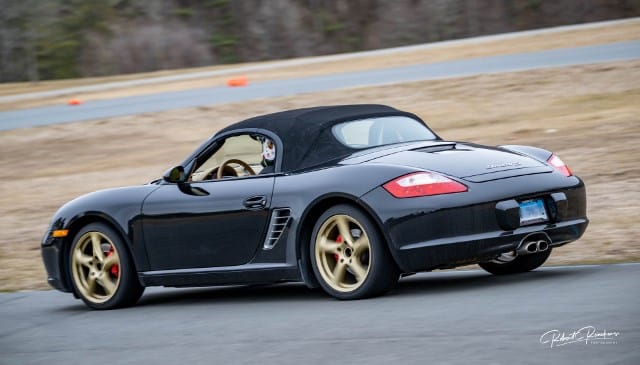 The coaches had set up multiple exercises for the participants. Each exercise was manned by a pro-coach: John Murphy, Dean DiGiacomo or Don Drislane. The goal of the clinic was to have the participants handle their cars in a variety of unstable conditions, driving with their car nannys on and off, trying to make the proper corrections with the brake, throttle and steering to keep them going in the right direction, in a safe controlled environment. The drivers did hard-braking maneuvers, right-left-right maneuvers and cone avoidance drills. And in 17 degree weather, for those that did hit a cone, that was the end of the cone. The hard plastic just shattered.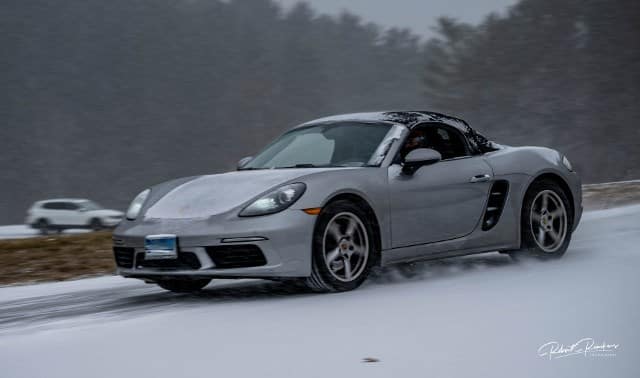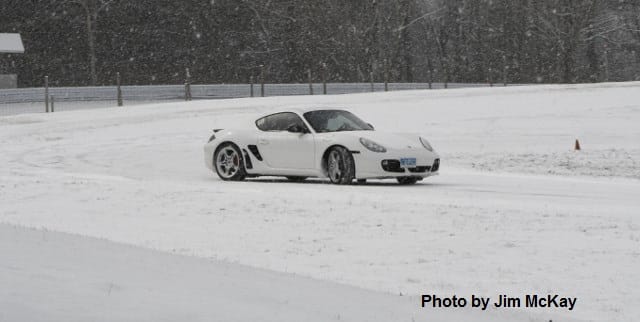 We stopped for lunch and when we headed back outside, the snow was coming down at a good clip, completely covering the courses. Conditions went from sliding around, to very little traction. Drivers got into total spins and sideway slides, always working on car recovery. The snow made it very challenging for the drivers, in a very controlled and safe environment.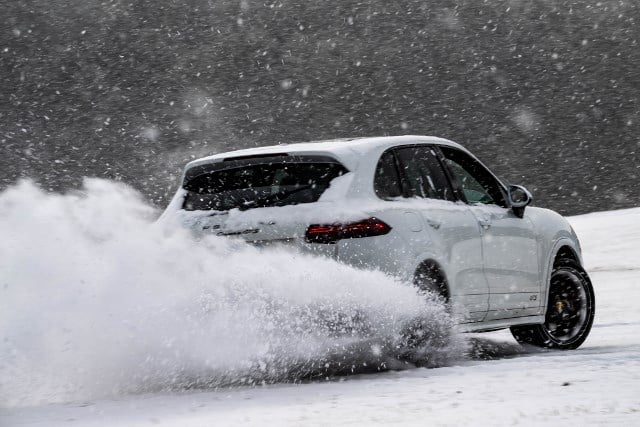 Thank you to our great coaches – these guys did a great job directing the drivers on each exercise. All done with a smile, while standing outside for hours, in very cold temps.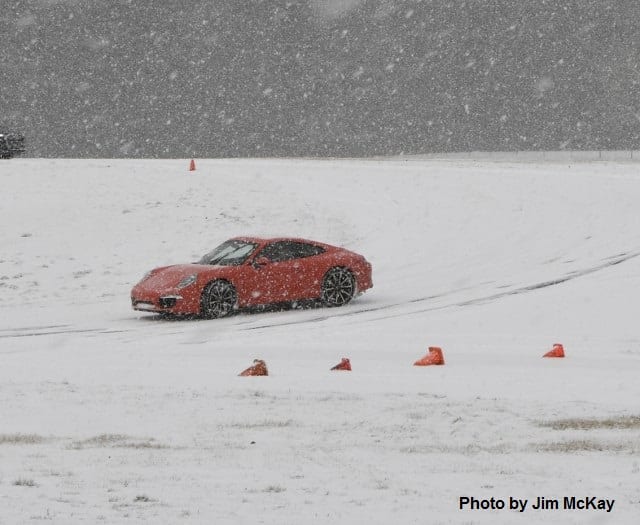 Early on Saturday, I had mentioned to John Murphy, one of our pro-coaches, that we had a chance of a dusting and he said 'a dusting at best, probably only enough to turn on the windshield wipers.' Well, by days end he just shook his head in disbelief.
By the end of our event, the snow had subsided and the roads were cleaned, so everyone had a much more stable ride home.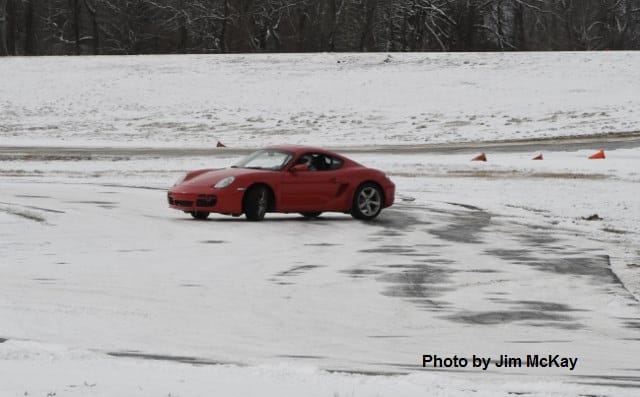 I want to thank our sponsors for our event: Mike Demilt with Porsche Danbury, Bobby Fantarella, owner of Elm City Trailer, Bob and Laurette, owners of Stable Energies Motorsports and Kieran with Hagerty. So, the next time you are looking for a new Porsche, check out Porsche Danbury. Call Elm City Trailer for anything trailer-related: race, track, garden, commercial, etc. Stable Energies (yes, everyone abbreviates their name) is the go-to for race car, driver and car prep. They are in Garfield, NJ and it's worth the trip. Hagerty is there for all of your insurance needs: track days, trailer coverage, vintage and general street insurance, plus coverage you probably didn't even know you could get.
Thanks to all of our sponsors for their generosity. When you call to buy something from them, please let them know that you know of them because of their involvement with the CVR DE program.
Thanks also to club photographers Bob Reinckens and Jim McKay for spending a very cold day taking great photos. Most drivers received at least one photo of their car 'in action' from the Car Control Clinic event. Many lucky drivers received several photos.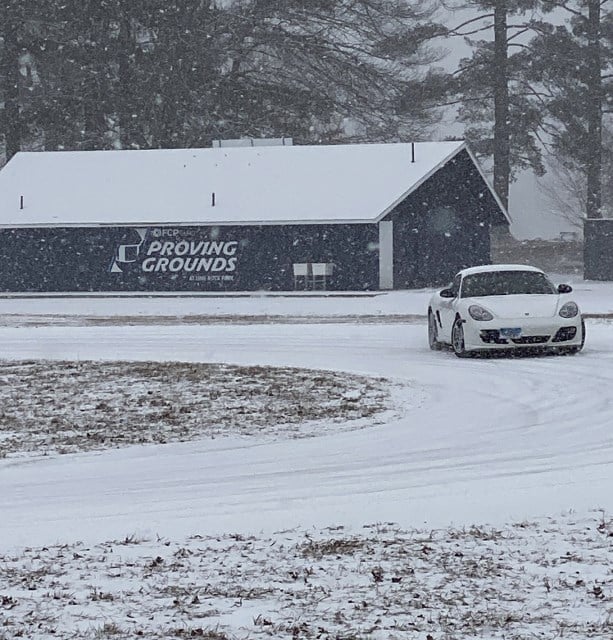 I know that everyone had a great time, just by the smiles. Next up – smiles at a DE Event on track and the first one up is April 10th.
See you at the track.
Dave