Farmington to Middlebury Early Bird Coffee Run
September 26 @ 7:00 am

-

11:30 am

Free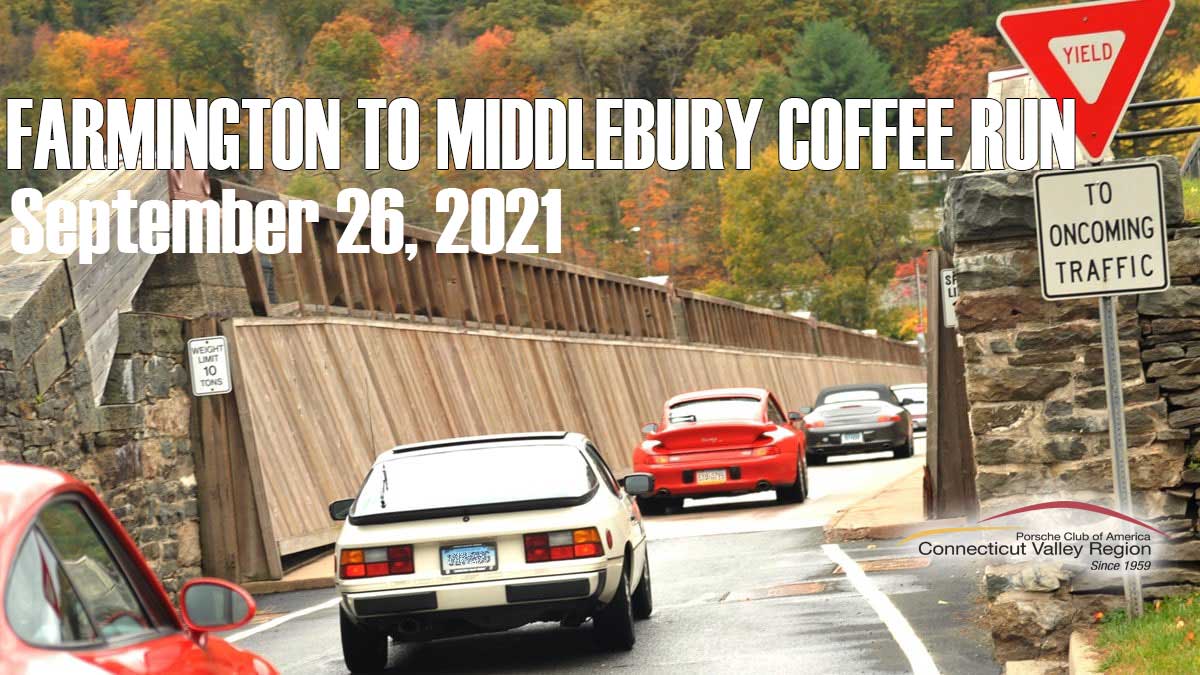 Registration will open at 7pm on Tuesday, Sept 21st (form will be available above at that time). Please leave the Total Guests count at 1 on the RSVP form, this represents the number of cars you are bringing. Thanks.
This run will start a bit early to beat the traffic. Meet up between 7:00 – 7:30 am, driver's meeting at 7:30 am with departure at 7:45 am.
This ride will start in the beautiful town of Farmington/Unionville depending on which GPS unit you use to find the McDonald's. There is also a Dunkin' Donuts right next door and you will pass a Starbucks for those of you with strong allegiances to one or the other.
We will start with a nice scenic drive along the Farmington River as it winds for the first 18 miles or so. We will drive through some small old New England towns with historic red brick buildings. Nice sweepers with little elevation changes. We'll make up for that once we hit Route 263 – very twisty and tight leading us into North Canaan. From there we'll head mostly south down picturesque and curvy Route 7 making our way South, before heading west into Middlebury.
Starting point: McDonald's, 1799 Farmington Ave, Unionville, CT
Ending point:  Dunkin' Donuts, 489 Middlebury Rd, Middlebury, CT
Total Distance: 110 miles
Easy access to route 84 at the end of the run for returning East or West.
RidewithGPS NAVIGATION PHONE APP
Through the generosity of Hagerty Insurance a RidewithGPS navigation app club account is available to all CVR members.
The RidewithGPS app provides turn by turn directions on your smart phone. The details on how to set up the app can be found – click here.
Important Note(s):
Please complete all the setup steps below prior to the Coffee Run or Tour that will be using the app (it will take a few days to get through the membership approval process). It will not be possible to set it up the morning of the event.  Routes will typically be available for downloading from the a few days prior to the event till the day of the event.
PCA DRIVING TOUR STANDARD BRIEFING
PCA has developed standards for driving tours that have to be followed by the regions.  Please review the standards we follow – click here
COVID-19 CONSIDERATIONS
Per Connecticut state requirements as of May 19th:

As of May 19, 2021, Connecticut's protocols regarding masks and face coverings were updated to align with the recently modified CDC recommendations. The protocols that are currently in effect statewide are as follows:
Outdoors
Indoors
Vaccinated not required to wear masks
Unvaccinated must wear masks
Masks are required to be worn by everyone in certain settings such as healthcare facilities, facilities housing vulnerable populations, public and private transit, correctional facilities, schools, and childcare
Businesses and state and local government offices have the option to require masks to be worn by everyone in their establishments
Municipal option to move beyond the minimum requirements of the statewide mask policy
Effective August 5, 2021, municipal leaders have the option of requiring masks to be worn by everyone in indoor public places regardless of vaccination status within their respective towns and cities
Please bring a pen for signing the waiver (To minimize contact of items between participants).
Thank you in advance for doing your part in helping us put on a safer event.
Related Events