Thanks to the west coast location of this year's Porsche Parade, we finally had our opportunity to visit the Peterson Automotive Museum in Los Angeles. The timing was actually perfect because as it happens, the museum is giving Porsche an entire retrospective in honor of the brand's 75th birthday.
The exhibit, titled We Are Porsche will only be running through April of 2024 and features a "once-in-a-lifetime" collection of 40 rare and unusual Porsches, beautifully displayed on the museums first and second floors.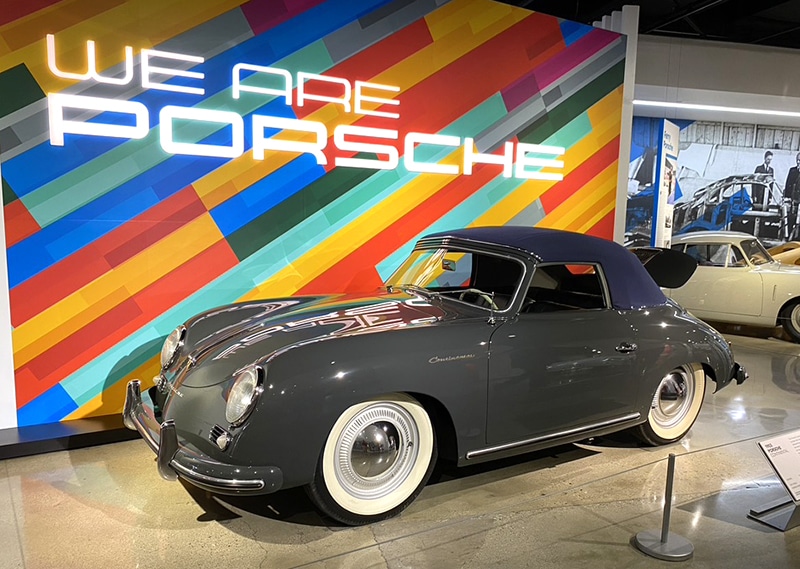 Once we entered into the museum lobby I was immediately sorry that I did not bring a "real" camera along with me on our trip, but I pressed my trusty iPhone into service anyway and following are photos of some of my personal favorites.
The first, and one of the most unusual Porsches that we encountered in the entry lobby was the Matchbox Porsche Carrera, which is a full-scale Porsche in a replica Matchbox package created by street artist Thierry Guetta. Beautifully detailed, presented and accurate down to the "sale price" sticker on the front of the window box.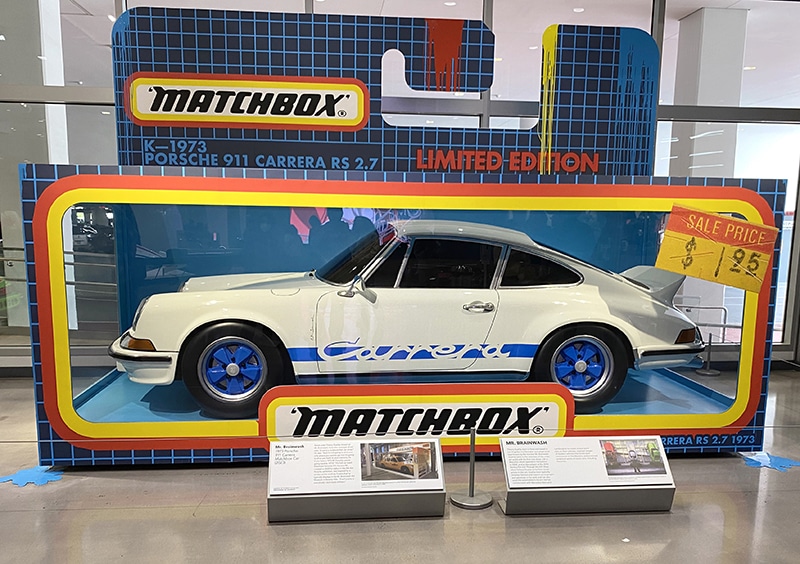 The 1949 Porsche 356/2 Gmünd Coupe side by side with a beautiful replica of the 356 Wooden Body Buck that was used to create the hand-hammered aluminum bodies.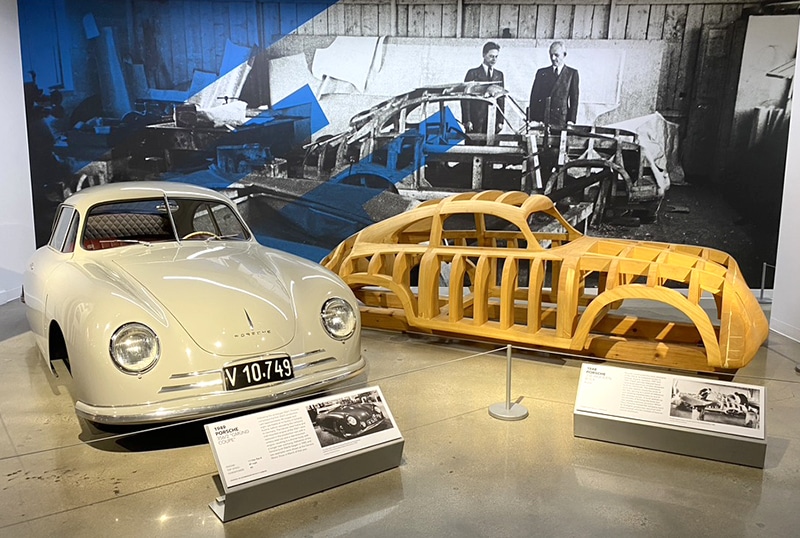 This 1964 904 Carrera GTS is representative of the first time Porsche used a fiberglass body shell that was bonded to its ladder chassis to keep costs and overall weight down. The 904 was a highly successful race car right from its very debut.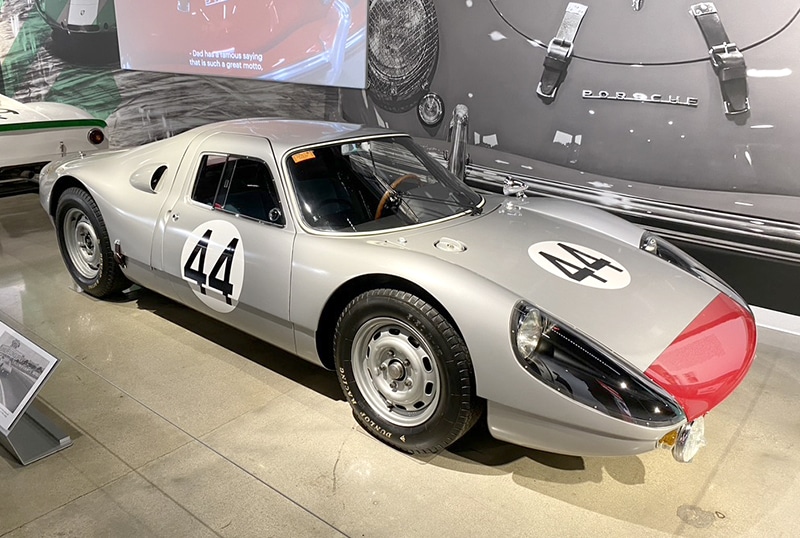 The International Race of Champions series, or IROC, was created by Roger Penske, Les Richter, and Mike Phelps as an all-star racing series with well-known drivers from different racing backgrounds including Formula 1, Indy car, NASCAR, and other racing series. For the inaugural 1973/1974 season, the chosen cars were Porsche's 911 Carrera RSR, of which 15 were built for the series; 12 for the competing drivers, plus 3 reserve cars.
The 1973/1974 field was a competitive one, with the likes of Richard Petty, Mark Donohue, Bobby Unser, A.J. Foyt, Bobby Allison, Emerson Fittipaldi, George Follmer, Denis Hulme, Gordon Johncock, Roger McCluskey, and Peter Revson competing on the same stage.
Denny Hulme was also famous for driving this 1968 McLaren M8A and dominating the Can-Am with his team mate Bruce McLaren for four consecutive seasons.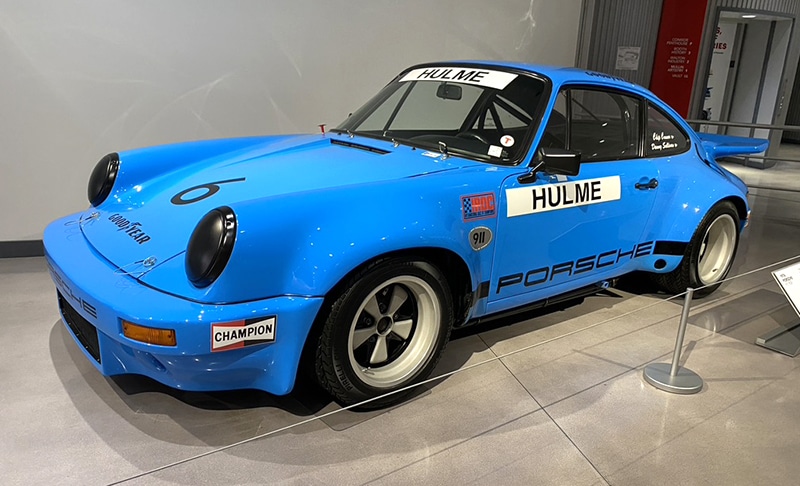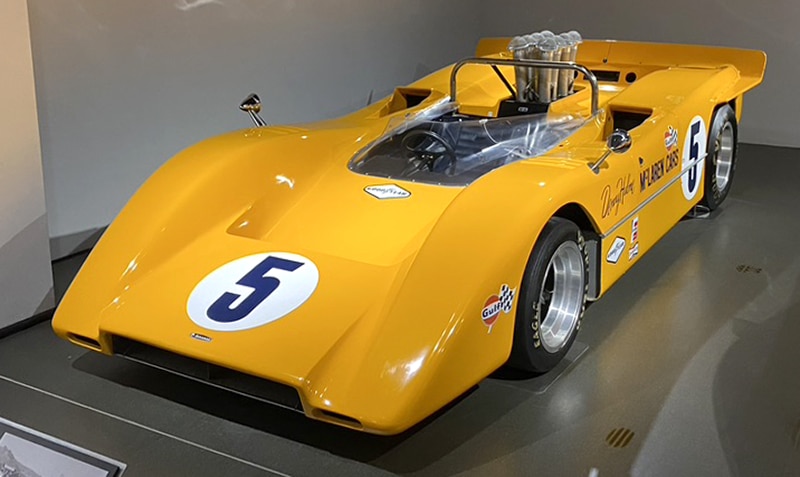 My all-time favorite race car, the Porsche 917/30 Spyder. With a twin-turbocharged flat-12 engine that could produce 1,600 HP in qualifying trim and a basic 4-speed manual transmission. The 917/30 was virtually unbeatable during the 1972 and 1973 Can Am season, with Mark Donohue at the wheel. This 50 year old racecar is fast even by modern standards with a 0-60 time of under 2.1 seconds and a top speed of over 240 MPH.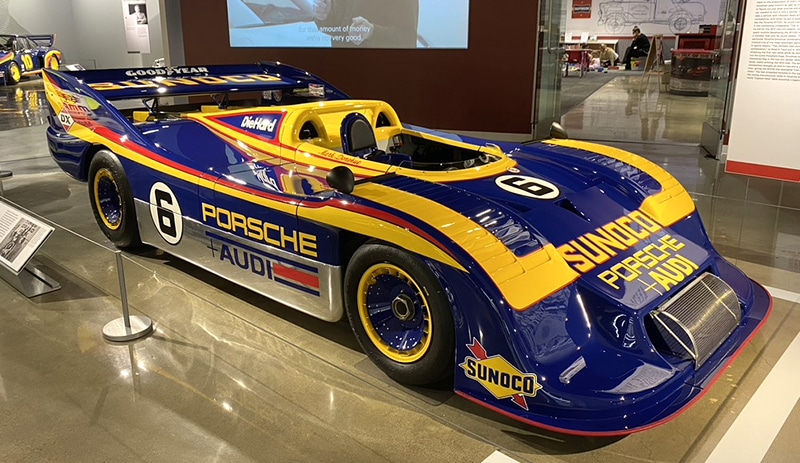 If you are planning to be out on the west coast before next April, make it a point to get to the Peterson Museum while this exhibit is there. It's unlikely we will ever see a collection of important Porsche cars together again, under one roof, on this side of the Atlantic.
CORRECTION
I'm sorry to say that one of our sharp-eyed CVR members pointed out a fairly serious mistake in the 2023 calendar that I put together for the club.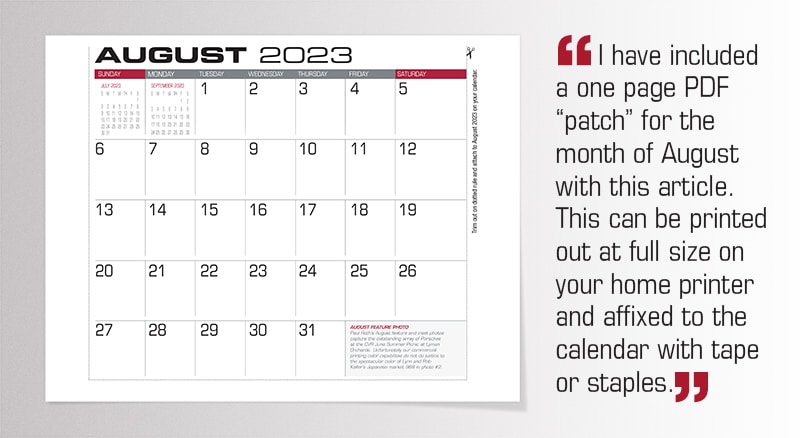 The dates on the month of August are wrong. Since it would be far too costly to re-print and mail I have included a one page PDF "patch" for the month of August with this article. This can be printed out at full size on your home printer and affixed to the calendar with tape or staples.
August Calendar patch instructions: Click the link below to view and download the patch